Apple Drastically Cuts Number of Drivers in AV Program
For the first time in two years, Apple has reduced the size of its autonomous vehicle (AV) driving team. Just last month, in March, Apple had 201 drivers licensed by the California DMV to pilot its self-driving test cars. We recently received numbers from the California DMV that say, as of April 28th, the number of drivers now sits at 145.
Apple's AV driving team
Apple had been steadily growing its driving team since July 2021. Just prior to that, Apple had slashed its team by more than half after holding its numbers steady early in the pandemic.
Apple's AV fleet size
Compared to the variations in the size of its driving team, Apple has held the size of its AV fleet (comprised of Lexus SUVs) relatively steady. Since March, Apple has reduced its fleet size by one vehicle, moving from 67 to 66 cars.
The variations in fleet size over the last three years have been low, ranging between 66 and 69 vehicles. In fact, these were numbers seen pretty early in Apple's program, back in August of 2019.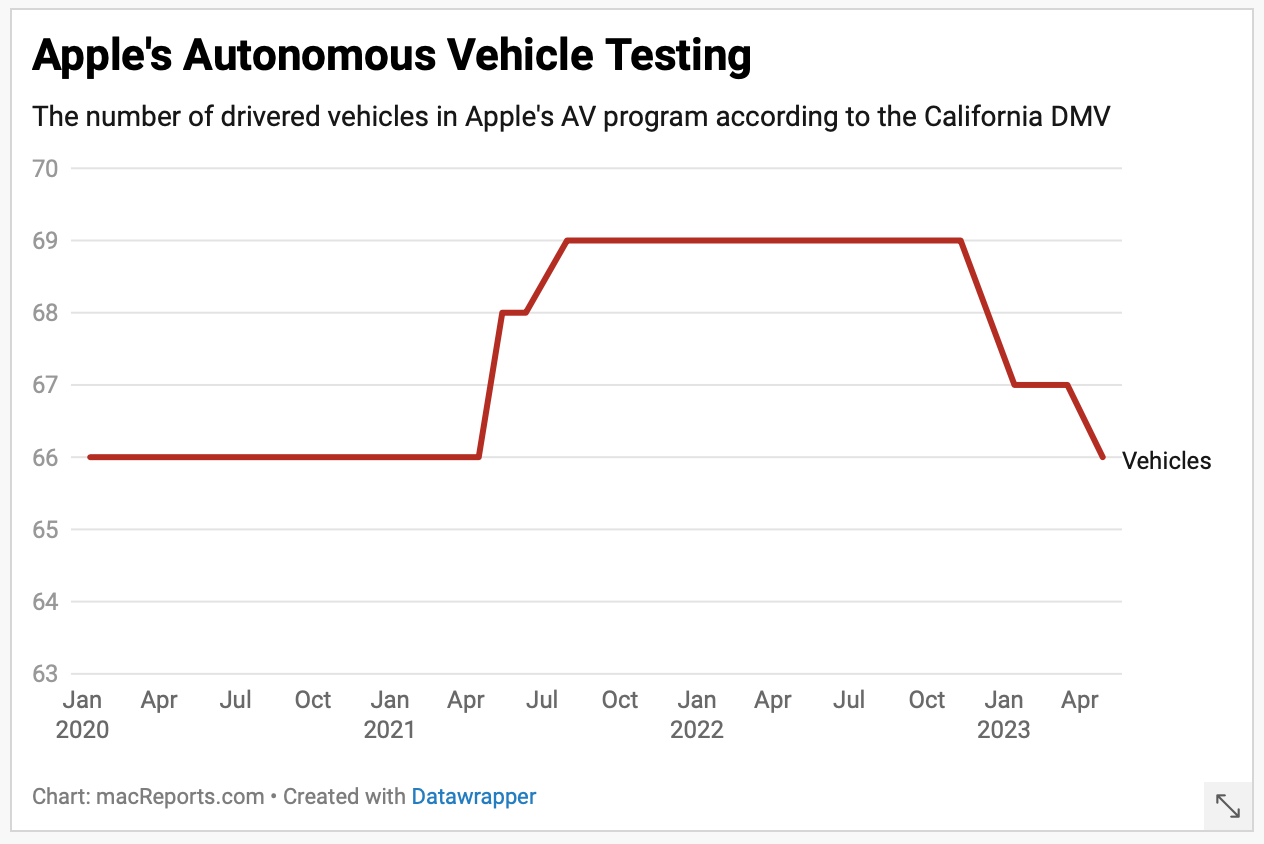 Driverless deployment?
One of the big questions regarding Apple's AV testing program in California is whether it has applied to test its vehicles without a driver. So far, no. The only companies who have licenses to test a driverless vehicle in the state of California are Nuro, Cruise and Waymo – and this hasn't changed since September 2021.
Current fleet volumes from California DMV
| | | |
| --- | --- | --- |
| Manufacturer Name | Drivers | Vehicles |
| MERC BENZ | 195 | 77 |
| WAYMO | 927 | 362 |
| TESLA | 59 | 14 |
| CRUISE | 332 | 862 |
| ZOOX | 649 | 182 |
| NVIDIA | 265 | 13 |
| APPLE | 145 | 66 |
| NISSAN | 48 | 6 |
| NURO | 118 | 115 |
| MOTIONAL | 34 | 45 |
| WOVEN PLANET | 77 | 38 |
| GHOST | 23 | 10 |
Previous coverage of Apple's autonomous vehicle testing program
Early coverage of Apple's autonomous vehicle program