How to Charge iPhone or iPad without Syncing to Computer
When you plug your iPhone or iPad into a port on your Mac or PC, your iDevice shows up in Finder or iTunes and tries to sync with your computer. You may not want to sync your device; you may just want to charge your device. The automatic syncing can be quite annoying when you don't want it, so in this article, we will tell you how to turn it off. You will still be able to sync your iPhone or iPad if and when you want to, it just won't happen automatically.
When your iDevice syncs with your computer, the following content can be synced. (If you are using iCloud, some of these items may not sync with your computer, because they are already synced to iCloud.)
Photos and videos taken with your camera.
Entertainment and other media: music and playlists, movies and shows, podcasts, books and audiobooks.
Contacts and calendars.
On Mac (macOS Catalina or later)
You have the option to either sync your device with your Mac automatically or manually. To find these options on your Mac:
Open Finder.
Connect your device (iPhone or iPad) to your Mac using the appropriate cable. (You can also sync your device using Wi-Fi.)
Your device should appear in the left sidebar of the Finder window in the Locations section. Select your device.

If you are asked to "Trust This Computer" on your device, you can simply not tap on "Trust." Instead tap Don't Trust. That way your device will just charge, not sync.
You may be asked to trust your device on your computer. If you don't click "Trust," you won't sync, just charge.

With the General tab selected, scroll down until you see a section of Options.
Deselect the checkbox next to "Automatically sync when this iPhone (iPad) is connected."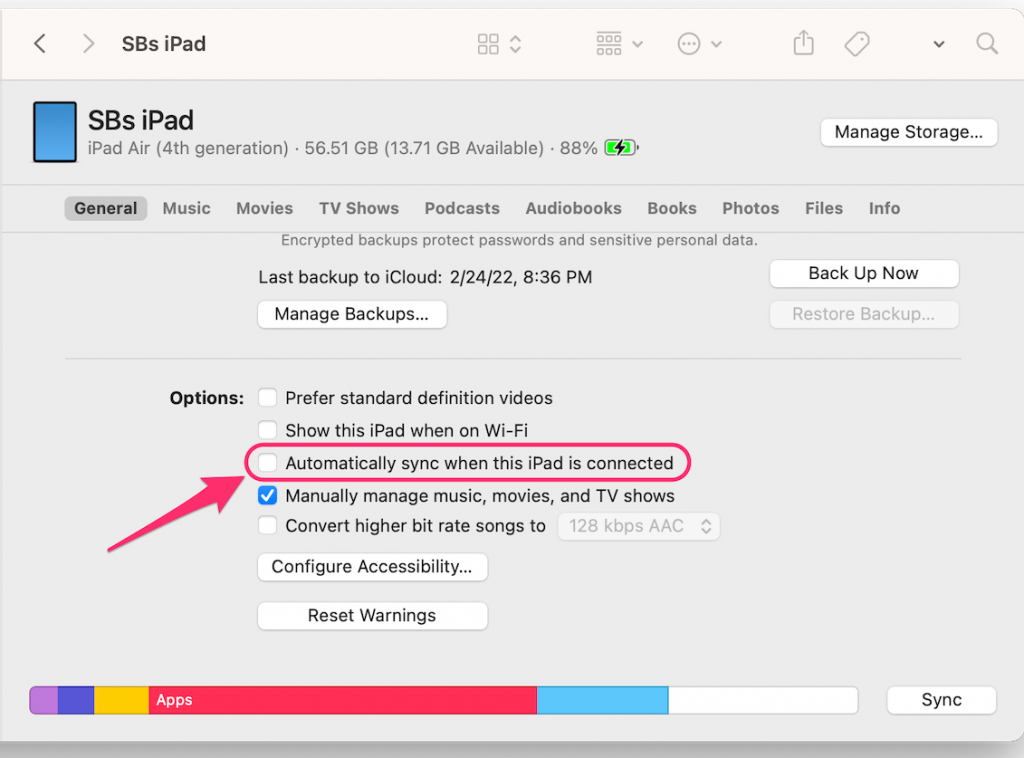 On Mac (macOS Mojave or earlier) or PC
Connect your iPhone or iPad to your computer. Open iTunes if it doesn't open automatically.
Select the small iPhone (or iPad) icon near the top left isn't already selected.
Scroll until you see the section titled Options. In the Options section, deselect "Automatically sync when this iPhone (iPad) is connected."
Click on Apply in the bottom-right corner of the iTunes window.
Related articles