How To Create and Manage Group Messages on your iPhone or iPad
Group messages let you communicate with a group of people (3 or more people) at once. This can be a great way to stay in touch with friends and family members. With group messaging, group members can send and receive text messages, videos and photos.
See also: Messages Showing Numbers, Not Contact Names? Fix
This article explains (a) how you can create group messages, (b) how you can name your group and (c) how you can add or remove users participants.
iMessage Groups vs MMS Groups
But first let us explain the differences between Group iMessage and Group MMS:
If all members of your group consist of participants using Apple devices (iPhone, iPad or iPod Touch), group messages will be sent as iMessages. If you have at least one participant using other type of mobile devices (e.g, Android phones), then group messages will be sent as MMS (or SMS) messages. Here are the some differences between them:
Group MMS messages appear in green bubbles while group iMessages appear in blue bubbles.
You cannot name MMS groups while you can name iMessage groups.
You cannot add or remove participants from MMS groups while you can do so iMessage groups.
See also: Crescent Moon Icon in Messages: What Does It Mean?
How to Create Group Messages
Open the Messages app on you iOS device
Start a new message by tapping the new message icon.
In the To: field, enter the name of the contacts (your group members). You can tap the plus sign to add contacts.
In the Text Message field, type your message
Then tap the arrow send icon. 
How to Add and Remove Group Participants
As stated above, you cannot add or remove participants from MMS groups. This means that if you do not see the "Add Contact" or "Remove" options, it is because of this. If your group is a iMessage group, anyone in the group can add or remove participants. There is no admin or any type of super user. Here is how:
Adding participants
To add participants:
Tap the Group messages to open the conversation
Tap the top of the messages showing the group members or name (if you named it already)
Tap the (i) info icon
And then tap Add Contact
And then type a new member in the Add: field
Removing Participants
Tap again group messages and then info (i) icon
Find the member that you want to remove and swipe left, note that you need to have at least three members.
Tap red Remove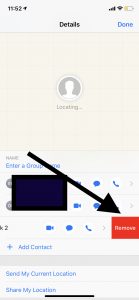 How to Name Groups
You can name your group. You can especially want to do this if you have multiple iMessage groups. Again, as note above, MMS groups cannot be named. Here is how:
Open the group messages
Tap the (i) info icon
Enter your group name in the Name field
How to exit a group
You do not want to participate in your group and you want to exit? Doing so will prevent you from receiving and sending messages and other stuff like photos etc from or participating in the group messages.
Note you cannot exit MMS messages.
Here is how:
Again open the group messages and tap the (i) icon
Scroll down
and tap the red "Leave this Conversation" icon.
See also: Text Messages Are Disappearing? Fix
Please note that if this is a very active group, you may want to turn off notifications, if you are getting too many new message alerts.