How to Find Places That Accept Apple Pay
Apple Pay is a contactless payment technology that offers a way to pay for goods and services. Although a lot of retailers accept Apple Pay (and this number is growing quickly), it is not accepted everywhere, yet. For example, Walmart does not accept Apple Pay. So, sometimes you may want to know who accepts Apple Pay. In fact, knowing this may affect your decision to go there.
This article explains how you effortlessly can find places (such as grocery stores, coffee shops, gas stations, boutiques, restaurants, bars, hotels) that accept Apple Pay. Those places let you use your iPhone, Apple Watch, or iPad to pay in a simple and convenient way.
See this article if Apple Maps is not working as expected.
Who Accepts Apple Pay?
The obvious way to see if a business accepts Apple Pay is to look for the Apple Pay decals in store windows or at checkout.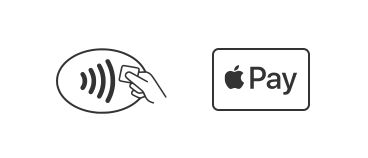 You can also just call the place and ask. But there is also one more way. You can also see places that take Apple Map in Apple Maps. here is how:
iPad, iPhone or iPod touch
Open the Apple Maps app yon our iPhone, iPad, iPod touch or Mac.
Tap a location or search for a place (restaurant, ) to find out if they accept Apple Pay or not. For the purpose of this article, we want to know if Culver's in Champaign, IL accept Apple Pay or not.
When you find the place, swipe up from the bottom.
Now you can view the location's detail.
Scroll down and find the "Useful to Know" section.
If the place accepts Apple Pay, it will say "Accepts Apple Pay".
Mac
Open Map.
Find a place to check.
Tap the (i) icon.
This will reveal the location's details.
Again find the "Useful to Know" section. Scroll down if needed.
And check to see if they accept Apple Pay.
Important notes:
Please note that this information is not always accurate.
Please note that Apple Pay is not only for brick-and-mortar businesses. You can also use Apple Pay in a lot of apps and websites.
If you are a business owner and Apple Maps, and you see an incorrect Apple Pay details (or any other detail) regarding your business, you can go  https://mapsconnect.apple.com/.
As a customer, if you notice an error, you can tap the Report an Issue link and then you can edit the details. The link is located just above the "Useful to Know" section.
And lastly, check out the Apple website explaining where you can use Apple Pay.
See also: How To Use Your Apple Card Where Apple Pay Is Not Accepted