How To Open & Use System Information On Mac
Your Mac includes a very useful built-in app, called System Information, that allows you to view a summary of information about your computer. This app is a system profiler included with macOS that displays hardware, network, drivers, and software information about your system. This short article teaches you how to open and use the System Information app on your Mac. This information can be viewed, saved, printed or sent to Apple.
This app provides a comprehensive overview of your Mac. You can find this summary very important and useful. For example;
This information can help you solve various problems that you are having with your computer, meaning you can use this information to diagnose and troubleshoot Mac issues, this includes hardware, software, and network-related issues. For example, you can open the System Information app to learn more about your Macbook's battery health.
Reviewing your Mac's hardware and software specifications will help you buy the right hardware and software so that you can completely make sure that they will work your Mac.
How to open System Information in macOS
Mac users can open the System Information app using a number of different ways. You can choose any of them. Here is how you can get a system report:
How to use the System Information app
Once you open the System Information app, you will see a window like this: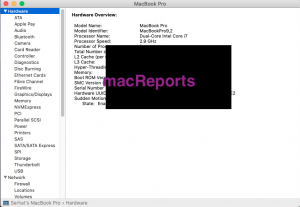 There are three basic categories (see the left menu):
Hardware: Installed or connected hardware such as printers, USB, Camera, Graphics, etc.
Network: Network connections such as Wi-Fi, Firewall etc.
Software: Installed software including the Mac OS etc.
Each category has many related subcategories. You can get even more detailed reports also. To do that click File > Show More Information. You can also change that back to shorter reports by clicking the File > Show Less Information.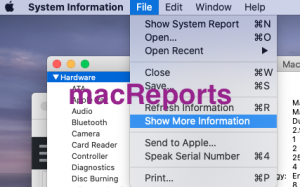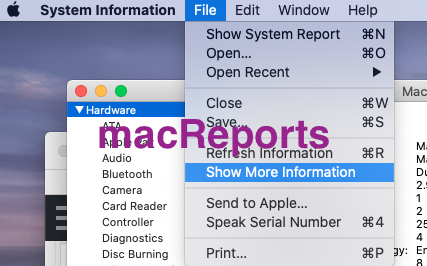 You can print this report by going to File > Print.
You can also save this report on your computer by going to File and then Save.
Further, Apple may ask you to send this report when you contact them for support so that Apple can fully understand and efficiently solve your problem quickly. To send your System Information to Apple, click File and then click Send to Apple.
You can use Activity Monitor to obtain information about your Mac's memory.
You can use Network Utility to explore your network.