How to Record Video in iMovie on Mac
Did you know that iMovie includes an easy to use audio and video recording feature? You can record your live video and related audio, and then embed it in your iMovie movies. This will enable you to record a video directly to iMovie. This uses your built-in FaceTime HD camera. This article explains how you can record your videos in iMovie.
Please note that there are other ways to create videos on your Mac. You can also create only audio on your Mac.
See this article if iMovie is not working properly.
Follow the steps:
1. Open iMovie:
You can use Launchpad. You can click the Launchpad icon in the Dock and then click the iMovie icon.
You can use the Applications folder. Open the Applications folder in Finder and click iMovie.
You can use Spotlight.
2. We will open the Import window in iMovie where we will record our video. You will need to click the Import button do tho this: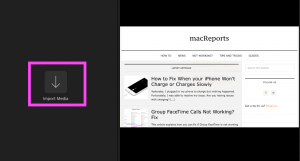 There are multiple ways to do this:
You can click the Media tab then click the Import button.
You can also click the Import button in the toolbar in the Projects browser.
3. In the left-hand sidebar of the iMovie window, you will see the Cameras section. And click FaceTime HD Camera.
If this is the first time you are doing this, you will be asked for consent. iMovie cannot access your microphone or camera without your explicit consent. Click OK. And your camera will be activated.  You will see a live preview.
Note: If you are unable to click the camera link, or if the link appears to be not working, you should go to System Preferences and check your Camera and Microphone settings. here is how:
On your Mac, click the Apple menu.
Click System Preferences.
Click Security & Privacy.
Click the Privacy tab.
Select "Microphone" and ensure that iMovie is selected.
Select "Camera" and ensure that iMovie is selected.
You will need to restart iMovie for the changes to take effect.
4. You can choose where you want to record into by clicking the "Import to" pop-up menu. When you are ready, you can click the red record button to start recording. Your new video clip will be created.
To stop you will need to press this button again. Click the Import button when you are done.
And done.
See also: How to add text in iMovie.