How To Stop iCloud Calendar Spam
This article explains how you can stop the iCloud calendar spam issue that you may experience on your iPhone, iPad or Mac.
Do you get junk invitations, like invitations to buy various products? Calendar spam is unsolicited messages sent in bulk. They can be very annoying. Do not worry. You are not alone. It appears that junk notification messages, e.g., free iPhones, great Ray-Ban deals and other scams, are flooding some people's iCloud Calendars. Some of them are phishing scams. Sorry to tell you but you did not win a free iPhone. However, the good news is that this is not a virus.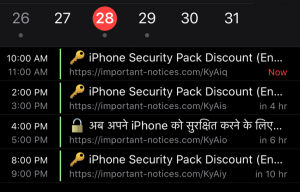 Here is how you can deal with this problem:
See this article if you see "Your Response To The Invitation Cannot Be Sent" message.
Calendar invitation spam
Do you get calendar invitations from someone you do not recognize? This message includes three options: Accept, Decline, or Maybe. Do not click the Accept, Decline or Maybe buttons. Because doing so will indicate that your email is real and your account is active and spammers will target you harder. So it will trigger even more junk.
What you should do is to click the Report Junk link, doing so will report it to iCloud. And then delete the email. After reporting, you can ignore this.
You can also report a spam calendar event invitation on iCloud.com. Here is how:
See also: Phishing for Apple ID Accounts: Scam Emails and Texts
How to report and remove iCloud calendar junk
Here is how:
When you report an event as junk, it will be deleted. It will also be deleted from your calendar on all your devices that are synced with that iCloud account.
Delete a rogue calendar
Do you get unwanted events that automatically appear on your calendar? Spammy notifications may start after, unknowingly, subscribing to a spam calendar by tapping a link to the calendar. You may have been subscribed to a spam calendar by opening the calendar (ics) file on your device. You will need to delete this calendar. Here is how:
On iOS devices (iPhone or iPad):
Tap Settings.
Tap Passwords & Accounts.
Under the Accounts section, do you see an unknown calendar name? Then tap that.
Then tap Delete Account.
You can also:
Open the Calendar app on your iOS device.
Tap Calendars.
Under the iCloud section, find the calendar you want to delete.
Tap the (i) icon.
Scroll down and tap Delete.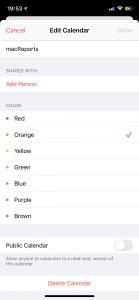 Mac
Open the Calendar app on your Mac.
Click the spam calendar's name in the calendar list. (You can select View > Show Calendar List).
Choose Edit > Delete. Or you can control-click (right-click) and select Delete.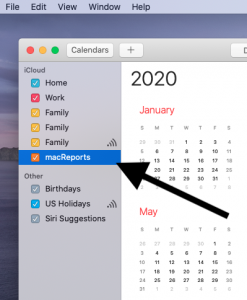 iCloud
Visit iCloud.com and log in.
Click Calendar.
Click Edit (bottom of the sidebar). Find the calendar you want to delete.
Click the (-) red Remove button, and click Delete and Done.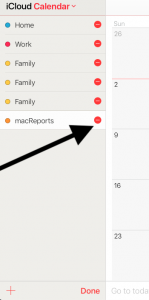 And lastly, if these notifications keep appearing repeatedly, you may want to change your "Invitation" settings. This will disable the automatic invitation parsing. Here is how:
Go to icloud.com and log in.
Click Calendar.
Click the Calendar.
Click the Gear icon.
Click Preferences.
Click the Advanced tab.
Find the Invitations section and then change the option from "In-App Notifications" to "Email to".
Click Save.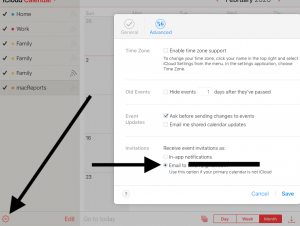 Now spam invitations will go to your mail but it will likely be labeled as spam, automatically, so you will not be annoyed.
See also: How To Fix Calendar Sync Problems On Your Apple Watch