How to Turn Off Two-Factor Authentication?
We get a lot of questions from our readers wondering how two-factor authentication can be turned off. It seems that some users find that two-factor authentication is annoying and it is understandable that they may have various concerns about wanting to turn off two-factor; even though it helps enhance your account's security by making it a lot more difficult for someone else to sign in to your Apple account.
So we decided to write this short article. The purpose of this article is simply to answer this question: Is it possible to disable two-factor authentication, and if so, how can you do that?
See also: Cannot Reset Apple ID Security Questions?
Disabling two-factor authentication
So, is it possible to disable this? The short answer is maybe but it is highly likely that you cannot. If you  already turned on this, you may turn it off within two weeks. Then you would be able to go to the apple.com website and go to manage my account. You would be able to turn it off there, if it shows. Here is exactly how you can do that:
Visit appleid.apple.com
Enter your Apple ID and password and log in
Find the Security section
Click Edit
Then click "Turn off two-factor authentication" (if you do not see this, then you cannot turn this off).  Once you click, you will be asked to confirm: "If you turn off two-factor authentication, your account will be protected with only your password and security questions". Click Continue.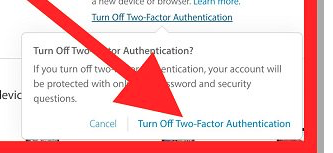 But if you cannot find the option to turn off this, then it means it can not be turned off.  As we stated above it cannot be disabled after it has been on for two weeks or longer.  If this is the case, you cannot turn off this security feature. Apple does not allow it. And here is why.
Why I Cannot Turn Off Two-Factor Aunhetication
Your account is more secure when you use Two-factor authentication so that no-one else can access your account even if someone else knows your Apple password. And a lot of iOS and macOS features (iCloud Keychain, iCloud Messages etc) require this extra level of security.
Apple introduced this feature in 2015 with iOS 9 and OS X 10.11 El Capitan.
Please note that two-factor authentication and two-step verification  is NOT the same thing. They are different. Two-step verification is an older security method than two-factor authentication.
If you are using two-step verification, you CAN turn this off. If you want to turn this off:
Enter your Apple ID and password to login
Scroll down and go to the "Security" section
Click Edit
Click "Two-Step Verification…" and then you will be asked to confirm. You will be asked: Turning-off two-step verification will make your account less secure. Are you sure you want to proceed? Click to confirm and you are done.
Please further note that if your device is running iOS 11 (or later) or macOS High Sierra, you will be automatically switched you from two-step to two-factor.
See also: Change Apple ID email