How To Use And Access Your Mac's Utilities Folder
Your Mac's Utilities folder contains a number of system utility applications that are designed to optimize computer performance. Some of them are:
Airport Utility.
Audio MIDI Setup.
Bluetooth File Exchange.
Digital Color Meter.
VoiceOver Utility.
Grapher.
Script Editor.
Disk Utility.
Screenshot.
Migration Assistant.
Keychain Access.
Console.
ColorSync Utility.
Boot Camp Assistant.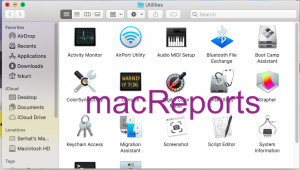 This folder is one of the default folders included in macOS. If you are a new Mac user, you may have issues finding this folder. This folder is found inside of the Applications folder.
Where is Utilities folder on your Mac?
There a number of different ways to access this folder:
Press these keys together to open the Utilities folder: Shift-Command-U.
You can use Spotlight. Launch Spotlight (Command-Space) and search Utilities and click to open it.
You can use the Finder app (located in your Dock). Click Finder, select Applications in the left sidebar, then find and click the Utilities folder.
Open a Finder window and then click Go and Utilities.
If you use this folder often or if you think you will use this folder often, then you may want to add it to your Dock for easy access. Again open Finder, then click Applications and find the Utilities folder. Now click the folder and then drag it to the right side of the Mac Dock.