How to Withdraw Money from Apple Savings Account and Transfer to Your Bank
The first thing you may wonder about after opening an Apple Savings account is how to withdraw money from your Apple Savings account. You can withdraw some or all of your balance. Once the money is withdrawn, you have two places to send your money:
You can send the money to your Apple Cash account, and then, if you want, you can deposit the money in your Cash account to your bank.
You can directly deposit to your bank account. There's no fee for bank transfers. The free transfer may take up to three days. If you need the money instantly, there is an instant transfer too. However, instant withdrawals to a debit card or bank account will incur a fee.
Apple makes depositing (and investing) and withdrawing simple, unlike some other banking institutions. They usually make withdrawing a little more challenging on purpose so that the money stays with them.
If you want to withdraw and transfer to your bank
You will need to link a bank account so that you can use this bank to receive the fund if you have not added a bank already. Follow the steps below:
Open the Wallet app on your iPhone.
Tap Savings Account.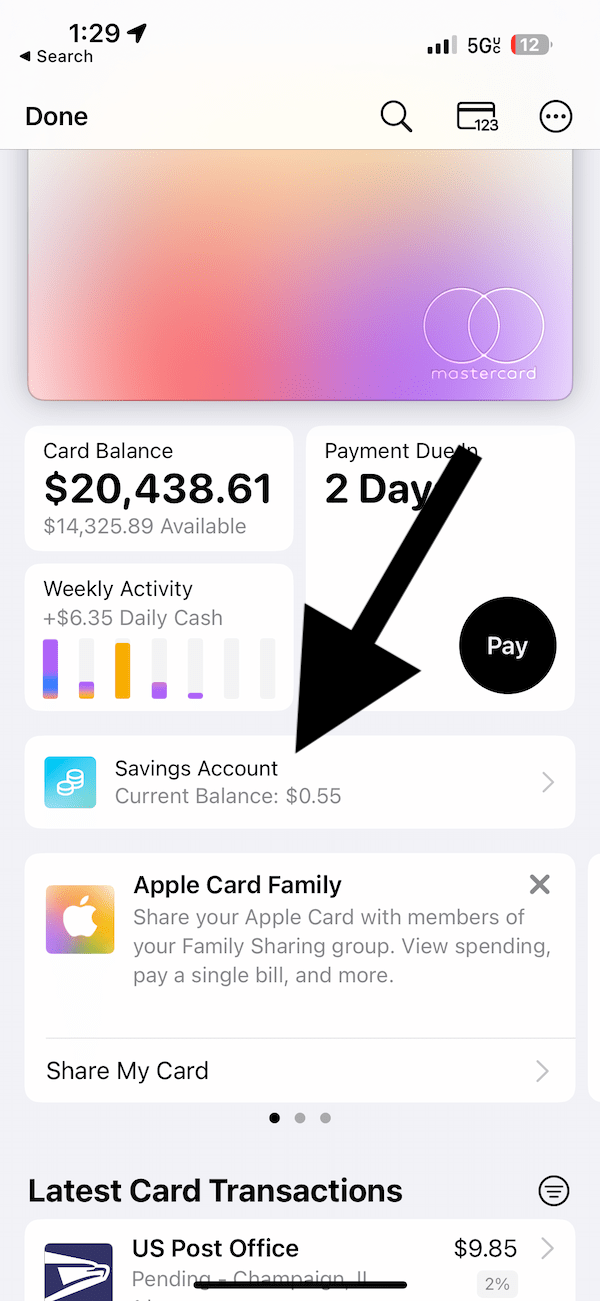 Tap the More (…) button located in the top-right corner of the screen and tap Account Details.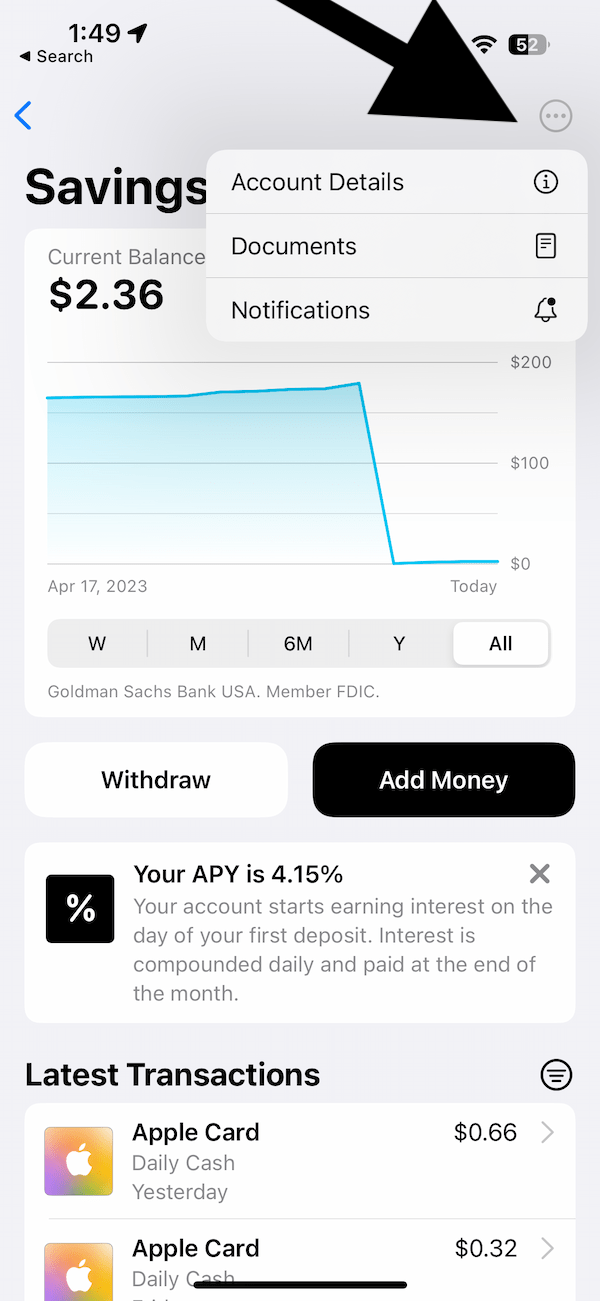 Tap Bank Accounts.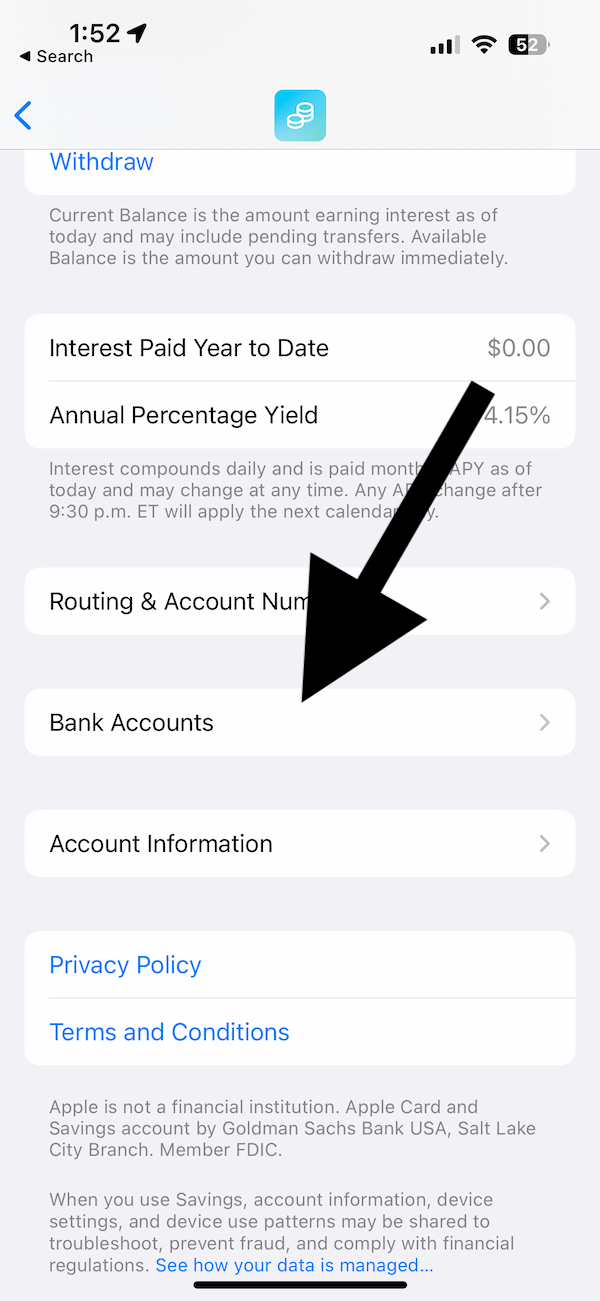 Then you can add a new bank account by tapping the Add Another Bank Account button. You can delete the current accounts by tapping the Edit button if you need to.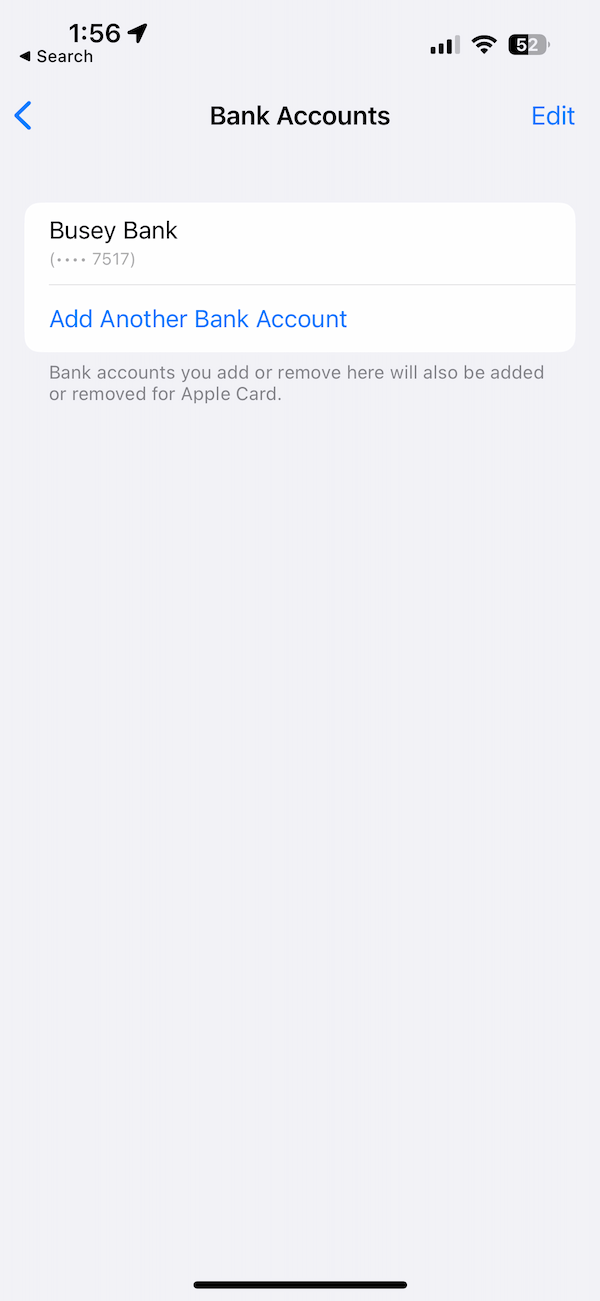 How to Withdraw money from Apple Savings account
After ensuring that you have a bank to send the money to, you can withdraw. Here is how:
Open Wallet on your iPhone.
Tap Savings Account.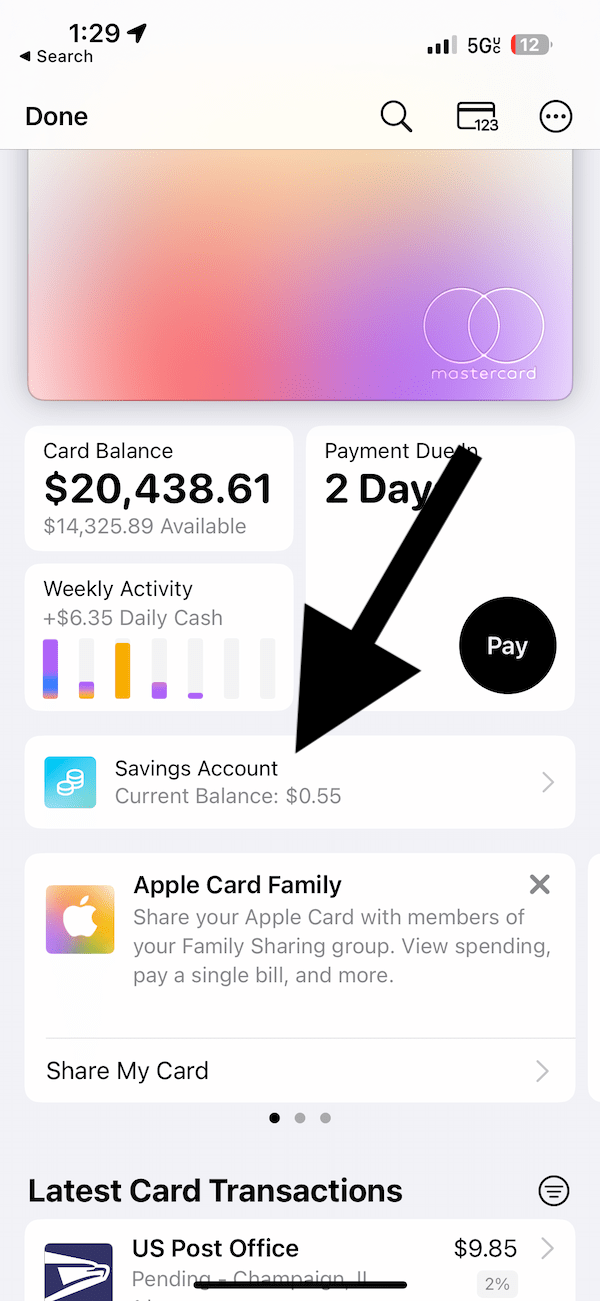 You will see your Savings account details. As you can see, I was able to save 55 cents. Tap the Withdraw button located in the middle of the screen.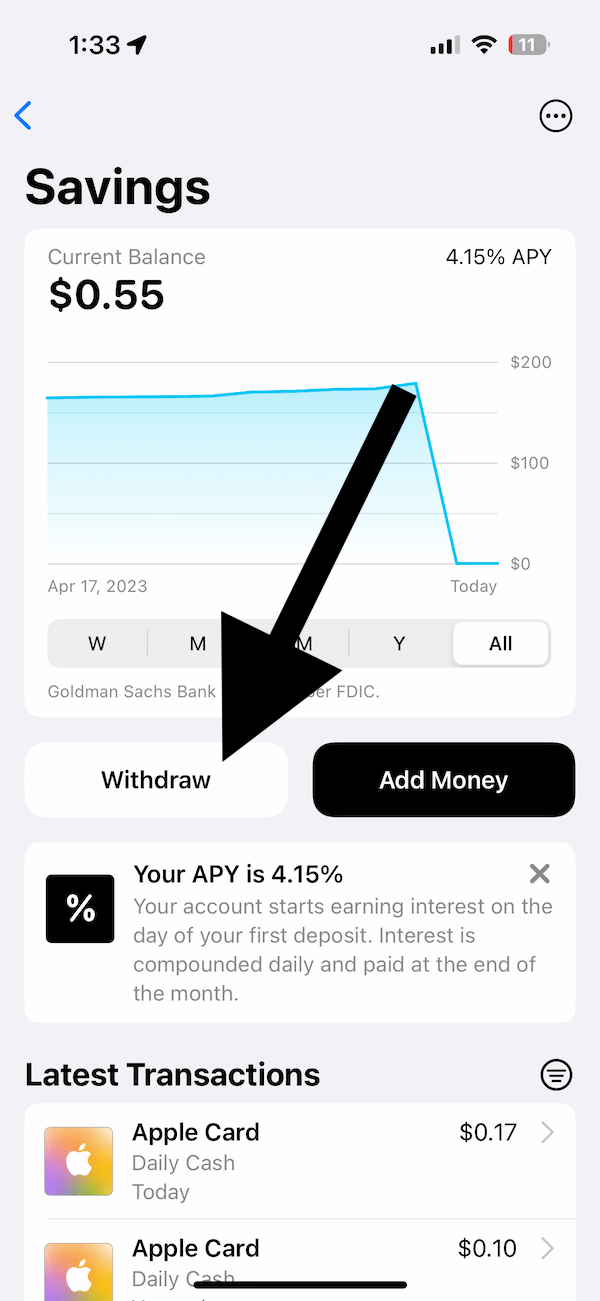 Now, using the keyboard, enter how much you want to withdraw. I am going to get all my 55 cents. After you are done, tap Next.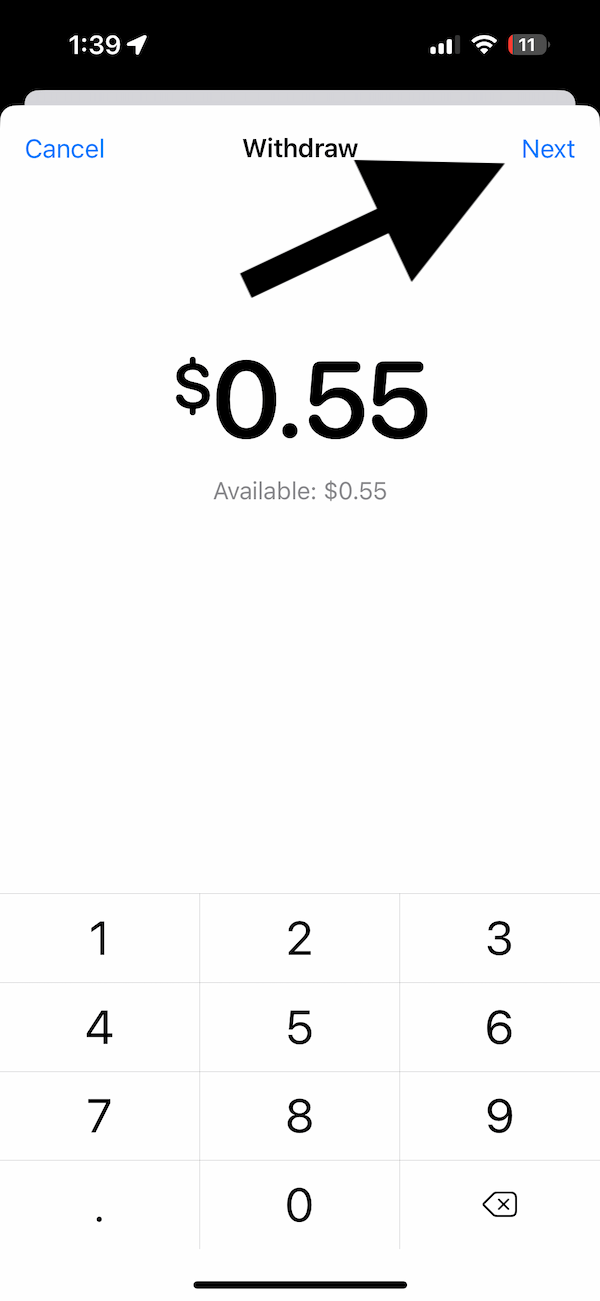 Now, the next screen is the confirmation screen. Here you can select your bank account. If you have multiple accounts connected, select one of them. Please note that you can also select your Apple Cash account. When you are done, double-click the Side button to transfer.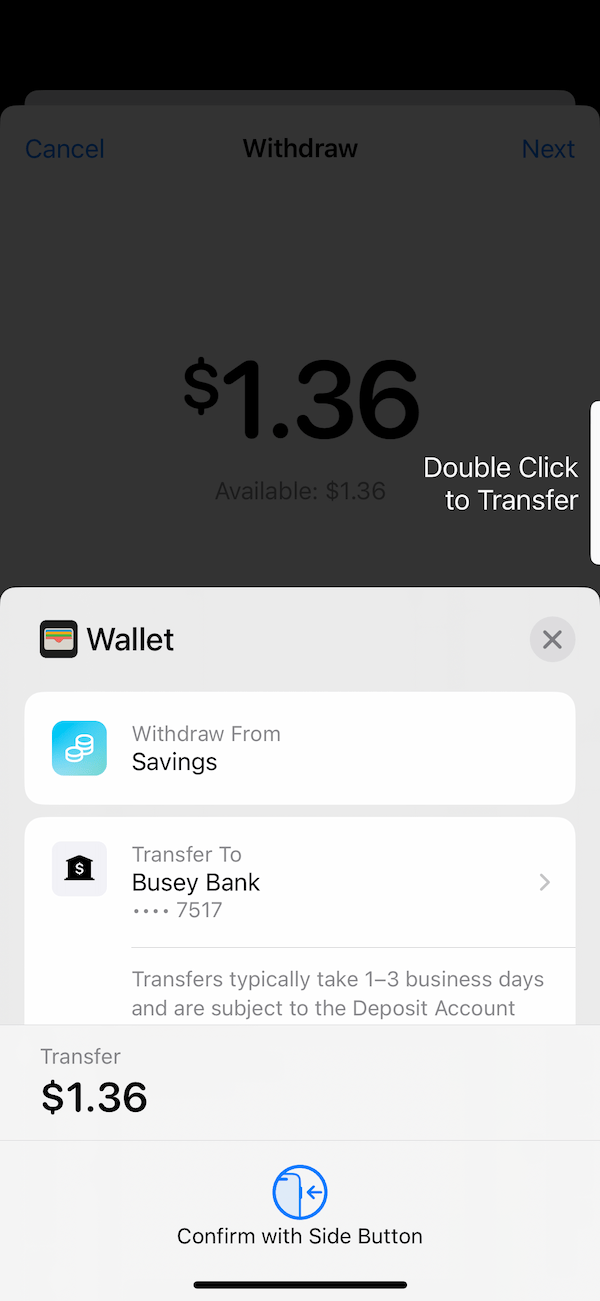 Your money will be transferred to your bank within 3 business days. Unlike the cash transfer, Apple does not offer an expedited option. There is no fee. Once you approve the transfer, there is no option to cancel.
If you need the funds instantly, the route you should take is to transfer from Savings to Cash. To do this, in the last step, simply select your Cash account instead of the bank account. Once the money is in your Cash account, you can transfer it to your bank. Simply select Instant Transfer. The money will be in your bank within 30 minutes. However, the instant transfer is not free; there is a 1.5 percent fee (max $15).
Limitations when you get money from your Savings account
As far as a minimum goes, you cannot transfer anything less than 1 dollar to your Cash account. However, there is no minimum limit for bank transfers.
As far as a maximum goes, you cannot transfer anything above $10,000 (ten thousand) to your Cash account. Furthermore, you may not transfer more than $20,000 (twenty thousand) per 7-day period.
Related articles