iPhone System Haptics, What They are, Enable or Disable
Some iPhone models include a feature called haptic feedback (also called Haptics or System Haptics). This feature uses the Taptic Engine to provide haptic feedback, combined with an audible tone and/or visual feedback. Taptic Engine produces your iPhone's vibration and haptic feedback functions. The focus of this article is on Haptics.
Haptics is designed to enhance your experience with your iPhone by implementing a sense of touch, as you interact with your phone. In other words, some of your actions on your iPhone will trigger a haptic, tactile feedback.
The following iPhone models include haptic feedback:
iPhone 11, iPhone 11 Pro, iPhone 11 Pro Max
iPhone XR
iPhone XS, iPhone XS Max
iPhone X
iPhone 8, iPhone 8 Plus
iPhone 7, iPhone 7 Plus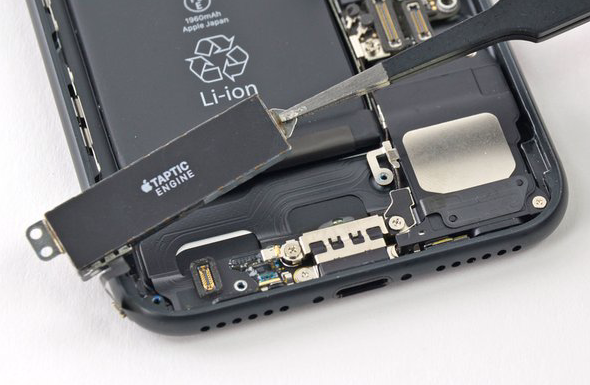 What are System Haptics?
A lot of users have said that turning off System Haptics does not work. Meaning that nothing changes after turning it off.
Users may say that because they may not notice them because System Haptics are mostly very subtle and feel very natural. Haptic feedback produces a tactile response, mostly a tap or a series of taps. These taps may differ in sharpness or intensity. You will feel these as taps or impulses. Your iPhone's many system elements (pickers, scrolls, switches, sliders, etc) provides haptic feedback unless you turn this feature off.
The following list includes a few examples:
Pinch-to-zoom: On your iPhone, you can zoom out. Simply touch two fingers on the screen, moving them apart to zoom out. Or you can zoom in when you move your two fingers towards each other. When you reach the maximum and minimum threshold of zooming, you will get a very subtle tab. See also: How To Turn Off Zoom (Magnifier) On Your iPhone.
Volume slider: Your iPhone has volume up and down buttons. You can use these buttons to control the volume. You will get subtle taps when you turning up or down the volume. See this article your iPhone volume keeps changing by itself.
Switches: Your iPhone Settings app consists of switches so you can turn on or off various settings. When you turn on or off a switch will cause a subtle tap. This also includes the on/off switches in other built-in apps.
Control Center sliders: Your control center includes two sliders: Volume and Brightness. When you want to adjust the volume or the brightness in Control Center, you will get subtle taps as you drag them up or down.
Shake to undo: You can shake your iPhone to undo. When you shake your iPhone, you will get two taps.
Burst photos: You can take burst photos on your iPhone which captures 10 images per second. These photos will also appear in your camera roll. And when you select a burst photo, you will get a subtle tap.
iMessage effects: You can use iMessage to send message effects. iMessage Screen Effects have a lot of System Haptics. These are full-screen effects. For example, send a "fireworks" effect, you will get multiple taps. See this article if iMessage effects are not working.
Keyboard: You can enter accented letters or other characters on the iPhone keyboard. To reveal these additional letters, tap and hold the letter, number, or symbol on the keyboard and the related characters will appear. For example, when you tap the $ sign, other currency symbols will appear so you can type.  And you will get subtle taps when you open and select these letters or characters. See also: How To Enter The Degree Symbol On iPhone, iPad, or Mac.
Reorder iMessage apps: You can use many iMessage apps. When you reorder your iMessage apps, you will get a tap.
Rearrange the Home screen: You can move and organize your apps on your iPhone. When you do that you will get two subtle taps in addition to the other effects.
Mail pull to refresh: You can check the new mails in iOS with a pull-to-refresh gesture. When you get a subtle tap once you have pulled down far enough.
Mute (ring or silent) switch: There is a switch on the left side of your iPhone. You can use this switch to put your iPhone in ring/silent mode. When you turn on Silent Mode, you will get two subtle taps. Turning this off does not trigger any tap. See this article if your iPhone is not ringing.
App Switcher: When you force close all apps on your iPhone, you will get subtle taps when you try to open App Switcher again indicating there are no open apps.
Numbers, time, and date pickers: When you select a number or date (for example in the Clock app) you will get multiple taps as you spin. For example, open Clock, then add an alarm, you will get taps when you select a time by scrolling through. Or in the Calendar app, you will get subtle taps when you want to add a new event.
Camera: When you are taking photos or videos on your iPhone, you can use camera modes (Portrait, pano, slo-mo, and other). When you change the mode, you will get subtle taps. Furthermore, when you change the camera view (front or rear) by tapping the rotate button. This will also trigger a tap. The best of all Camera system haptics is that you will get subtle taps when you take photos (when you press the red or white button) or when you start and stop recording videos.
AirDrop: You will get subtle taps when you send a file via AirDrop. See this article if AirDrop is not working.
Flashlight brightness: You can change the brightness of the flashlight. Open Control Center and press the flashlight icon and when you drag the slider up or down, you will feel the taps.
How to turn off or on haptic feedback
If your iPhone includes haptic feedback, you can easily turn off or on. If you turn this off, you will lose all System Haptics that we described above. Perhaps, the quality of your interaction with your iPhone will be diminished. Here is how you can enable or disable System Haptics:
On your iPhone, go to Settings.
Sounds & Haptics.
Scroll down and find System Haptics. You will see a switch.
Then turn on or off System Haptics.
Please also note that you can change your iPhone's 3D or Haptic Touch sensitivity by going to Settings > Accessibility > Touch, then tap 3D & Haptic Touch (or 3D Touch or Haptic Touch only).
See also: How to Make FaceTime Conference Calls (Audio or Video)