Links are not Working in Safari on Mac, Fix
This article explains what you can do if you are unable to open website links in Safari on your Mac. Ideally, any links you click will open. However, sometimes, you may experience an issue where nothing happens when a link is clicked. And if you cannot open websites by clicking links, you will not be able to use them.
Likewise, you may also experience that links will only open if they are double clicked. And again, clicking once does not work. Furthermore, it appears that sometimes you may run into this problem on certain websites and sometimes this issue may occur on all websites you visit.
Safari may not work properly. For example, Safari may not respond sometimes. Like these problems, this link problem is also important. Luckily you can easily fix this problem.
Quit Safari
Simply restart Safari. This may fix your problem. You can quit Safari by going to Safari > Quit Safari. Alternatively, you can press Command-Q. And then open Safari and test to see if you can open links. Follow these steps If you see that Quit Safari is grayed out.
If you are unable to quit Safari, then try force quitting. You can force quit it by pressing Option-Command-Esc or going to the Apple menu > Force Quit.
Update
Update your Mac to the latest version of macOS. Since Safari is also part of the macOS software, updating macOS will also update Safari to the latest version. You can check for updates by going to System Preferences > Software Update. And then, if there is an update, follow the onscreen instructions to update your Mac.
Extensions
Your Safari extensions may cause this problem because one of your extensions may be causing a conflict. Turn off your Safari extensions to see if they are the problem. You can turn them off by going to Safari > Preferences > Extensions. Then deselect the checkbox. Repeat this step for every extension to turn them all off. After turning them off, open Safari and click a link. Does it work? If the answer is yes, then one of your extensions are causing this problem. You can then re-enable an extension and test to determine which extension is causing this issue. Furthermore, ensure that all of your extensions are up to date.
Reset Safari
If you are still having this issue, reset Safari and then try again. By resetting Safari, we mean (a) removing history (b) removing cookies and website data (c) clearing cache files. Here is how:
Remove history
When you do this, Safari will delete your browsing history. Here is how:
In Safari, click Safari and Clear History (or alternatively, History > Clear History).
Choose "All History".
And click the Clear History button.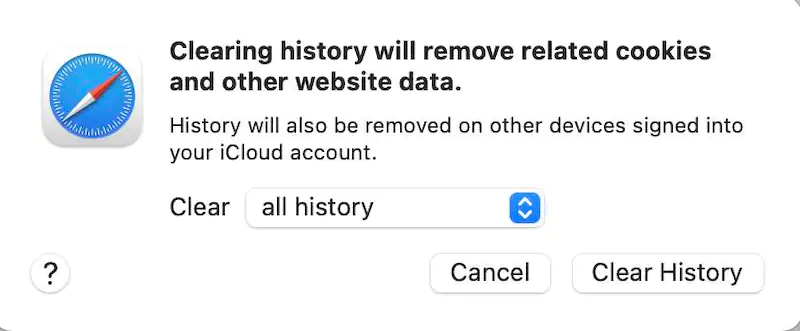 Remove website data
In the Safari menu, click Safari and Preferences.
Click the Privacy tab.
Click the Manage Website Data button.
Then click Remove All. This will clear all of the sites' cookies and stored data.
Delete Safari's cache
From Safari's menu bar, click Safari > Preferences.
Click Advanced.
And check the "Show Develop menu in menu bar" box.
Exit Preferences.
Now, a new menu item will appear, Develop.
Click Develop and select Empty Caches.
See also: