Local Network Access on iPhone: What It Is and How to Enable It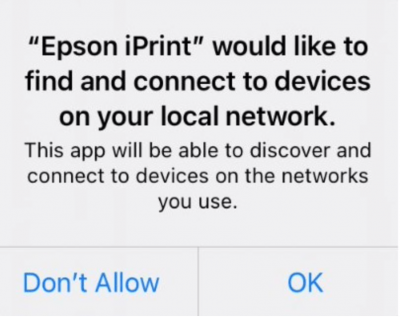 You may have seen a pop-up window on your iPhone that says, "[Some App] would like to find and connect to devices on your local network." You may be wondering whether or not to allow the app to do this. When you see the pop-up window, there are two options for you to choose from: Don't Allow and OK. In this article, we will explain why you are seeing this pop-up and which option (Don't Allow or OK) you should select.
Why are you seeing this pop-up?
Users began seeing this pop-up in iOS/iPadOS 14. Basically, this pop-up lets you control whether or not you would like a particular app to have access to other devices on the network. This pop-up will appear the first time you open the app, and it tries to access the network.
The reason you are bothered with this question at all is because there is a possibility of the app collecting your data. Having this pop-up appear and force you to choose is a way to make sure you are in control of the data that your apps are accessing. If you give an app permission to access other devices on your local network, the app can collect information about those devices and when you use them. For most people, this is not really a big deal; however, some may not like the possibility of a data profile being created that includes information about their devices and habits.
Should you allow the app to use your local network?
When you see the pop-up message, you may also see a customized message that tells you why the app wants to use the local network. This can help you decide if you want to allow it. In some cases, you may not really need the app to use your local network. However, certain apps may not work if you haven't given them permission. For example, apps that stream content to your TV may not work unless you have given them permission to find and connect to the display (TV) on your local network.
The following is a list of examples. You may or may not wish to give these apps permission based on your personal needs and preferences:
Game apps may ask for permission to use the local network so that you can play with others on your local network.
Streaming apps such as Netflix, Disney+, Hulu, etc., will ask permission in order for you to send shows to your TV.
Home apps such as Google Home need permission to communicate with the smart devices in your home.
Find out more about what data the app gathers
Starting in mid-2020, Apple began its program of including a privacy information section, App Privacy, for apps in its App Store. The available privacy information includes the types of data collected and whether or not the data is linked to you or is used to track you.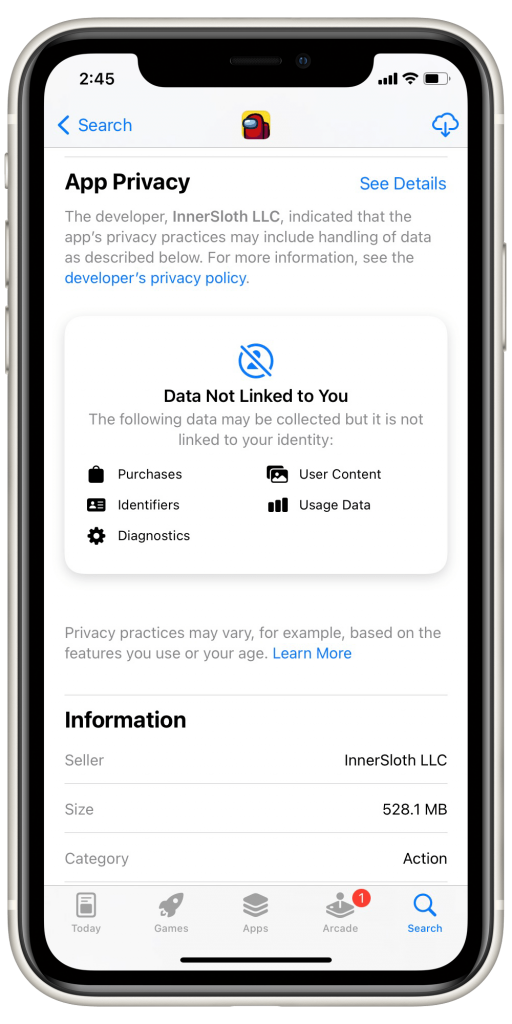 For the apps available in the App Store, you can look up the App Privacy section for that app.
Open the App Store app on your iPhone (for other Apple devices, go to that device's App Store) and search for the app. Tap on it to open its App Store page.
Scroll down until you see the App Privacy section. You can read the information available there.
You can also tap on links that can provide more information. For example, in Among Us' App Privacy section, there are links labeled:

See Details – which will give you more detailed information about the app's privacy practices.
See the developer's privacy policy.
Privacy practices may vary, for example, based on the features you use or your age. Learn More.
If you want to know more about Apple apps, Apple provides a page with information about how Apple apps use your data.
What happens if you deny permission?
You may be wondering what an app can do if you deny permission to access devices on your local network. The app can still do the following, even if you deny local network permission:
Apps can still access the internet. You are only denying them permission to interact with other devices on your local network.
There are certain Apple system services that an app can still use, especially Apple apps. Those services are HomeKit, AirPlay, AirPrint and AirDrop.
How to change local network permission later
Although you only see this pop-up message once, you can still change your mind later. If you had previously denied permission to an app that you now realize needs to access the local network in order to properly function, you can do that easily enough in Settings.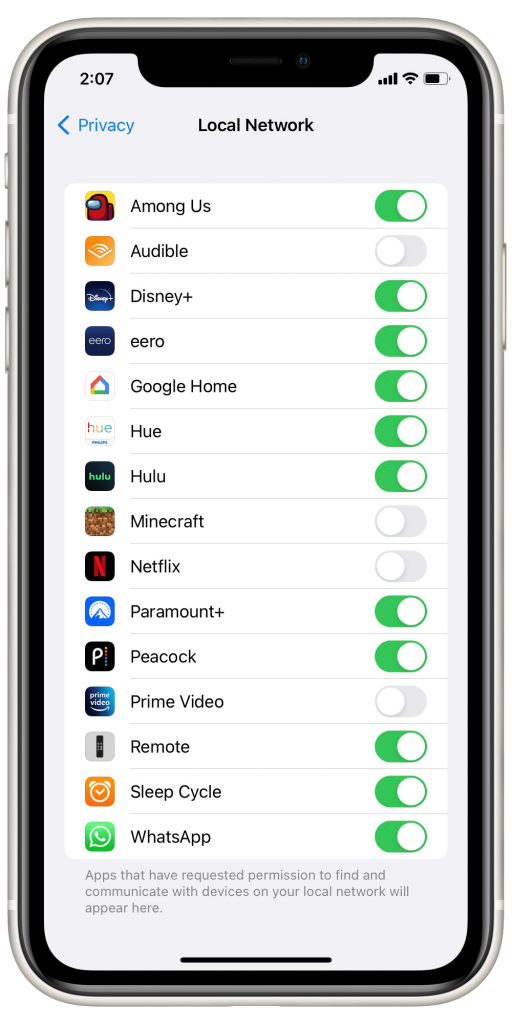 To change local network permission for apps:
On your iPhone (or iPad), open the Settings app.
Scroll down and tap on Privacy.
Tap on Local Network.
You will see all of the apps that have requested permission to access the local network. You can toggle the switch next to any app to change its permission status.
Related articles