You wanted to use your Mac, but instead, your Mac won't start up?  Does your Mac computer stuck on a white / gray screen (after a start up chime)? Does your computer get stuck at the Apple logo? Sometimes  an error or issue with your OS X operating system may cause your computer to stop functioning properly and display a white screen. There can be several reasons why a computer won't boot. However there are several tips you can try to fix it. This article explains how to fix this white screen issue so your Mac can work as normal.
Devices: MacBook Air, MacBook Pro, iMac, MacBook, Mac Pro
Before doing anything, you may want to make sure that you have a copy of your information to use if your Mac becomes unusable. So you may want to try backing up now before doing anything. Backing up may be possible even if your Mac does not boot. If you have already backups, then you may skip this step. You may be able to use OS X Recovery to backup your Mac.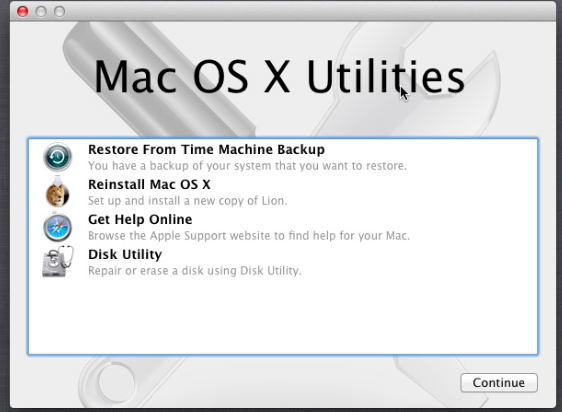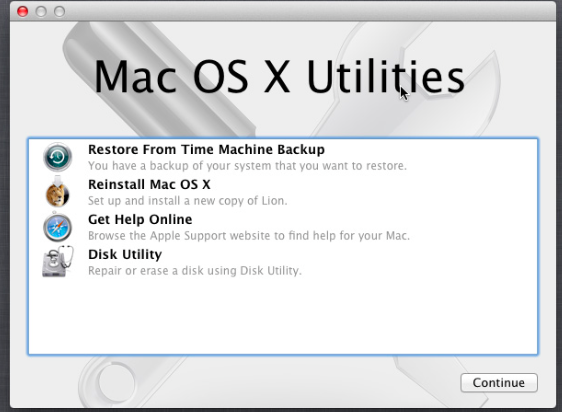 Here is how to back up your mac that will not start up:
Connect your external hard drive. You need this because you need to back up your Mac to an external drive as you are having issues with your Mac. Also make sure that this external space has enough free space to store your data.
Shut down your Mac
Turn on your Mac and, immediately after the start up chime, hold down the Command and R keys at startup until you see the Apple logo.
Wait until you see the OS X Utilities window
Select Disk Utility and Click Continue
In the sidebar, select your drive that you want to back up, like Macintosh HD
Click Verify Disk, if this verifying disk process finds an issue, click Repair Disk
In the toolbar, you will see the "New Image" icon
Choose your external drive to save this. This will create a compressed disk image of your disk's contents.
Note these steps may be slightly different for different version of OS X.
How To Fix Mac White Screen
Please check to see (by rebooting your Mac) if your issue if resolved after performing each step.
1-Shut down your Mac by holding down the power button. Disconnect all peripherals (printers, scanners, USB devices etc) that are plugged in to your Mac, except the mouse and keyboard. After disconnecting everything, try restarting your computer. If you Mac starts without any issue, this means that one of your accessories is causing this. Try to figure out the problematic peripheral(s) by reconnecting your accessories one at a time.
2-If restarting your Mac with your peripherals disconnected does not work, try this step. Try safe mode (or safe boot) if you Mac does not start up. Safe mode is diagnostic mode designed to fix OS problems. Thus safe mode can be a useful troubleshooting method. Here is how you can start your computer in safe mode.
Shut down your Mac and wait at least 10 seconds
Restart your Mac
Press and hold the Shift key as your computer restarts. You need to press the Shift key immediately after the star up sound/chime before the Apple logo appears.
Release the key when you see the gray Apple logo.
Be patient because safe mode is slower. if you Mac starts up, restart your Mac normally without pressing any buttons.
3-Try repairing your start up disk by opening Disk Utility in OS X Recovery. Please follow these steps:
Turn off your Mac
Restart your Mac and hold option+R keys immediately after the Apple startup chime. Keep holding the buttons until you see the Apple logo.
When your computer starts up, you will see the OS X utilities menu.
Select Disk Utility and click Continue
Select your start up disk
Click Repair Disk
Then reboot your Mac
4-You may want to reset "non-volatile random-access memory" or NVRAM. Follow these steps:
Turn off your Mac
Wait at least 10 seconds
Turn on your Mac
Press and hold the Command-Option-P-R keys immediately after the start up sound.
Your computer will restart (keep holding the keys)
Release the keys when you hear the second start up sound. This process will reset NVRAM.
5-Resetting the System Management Controller (SMC) may fix your problem. Here is how:
Follow these steps if your have a modern Mac notebook (like MacBook Air, MacBook Pro) without a removable battery:
Turn off your computer
Connect the power adapter
Press the Shift-Control-Option keys and the power button at the same time.
Then release all the keys at the same time
Reboot your computer
Follow these steps if you have an older Mac notebook with removable battery:
Turn off your computer
Disconnect the power cord
Remove the battery
Hold the Power Key for five (5) seconds, then release the power button
Reconnect your battery and power cord
Turn on your Mac
Follow these steps if you have an Intel-based Mac Pro, iMac, and Mac min
Turn off your computer
Disconnect the power cord, wait fifteen (15) seconds, and connect the power cord
Wait five (5) seconds and turn on your computer
6-Reinstalling OS X may fix this and you may use OS X Recovery to do this. Here is how:
Shut down your Mac
Turn on your Mac and hold the Command and R keys immediately after the Apple startup chime until you see the Apple logo
Select Reinstall OS X and follow the instructions