macOS TV App Not Working, Fix
This article explains how you can fix if the Apple TV app is not working as expected when launching the TV app on your Mac. The most common TV app problems are:
The app keeps freezing
The app keeps crashing
The app won't launch
The app shows black or white screen
The app does not load any content
The app is not responsive
If you are having any of the above problems with the app, then this article is for you. Ready to watch something on TV but found out that you are unable to watch because the app will not launch or its screen is black? This is a big problem because it will prevent you from watching and seeing the content in the Apple TV app on your Mac.
Another common issue that some users are having is that users may be unable to load certain tabs like Watch Now or Movies. You may see a message saying "An error occurred" when attempting to load the tabs in the TV app.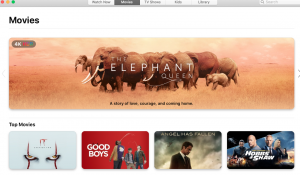 Please also see: Can't Sign In To The Music App On Mac? Fix
How to fix when macOS TV App is not working properly
Please try the steps below in this order. Please also test to see if your issue is resolved after each step.
Before you try anything, make sure that your Mac is connected to the Internet. You can simply test this by opening and visiting macreports.com. Does our website load? If you are having Internet connection problems, you can try various troubleshooting tips. The first tip you should try is to restart everything (you may, router and modem). Please also see this article regarding macOS Catalina Wi-Fi troubleshooting.
1. Your problem might be a temporary problem because this problem might be on Apple's end. Apple has a website that shows outages. On your Mac, go to the Apple status site to see if the Apple TV services are experiencing downtime. Find the TV services. There are a few of them. If you see a green dot icon next to them, the service is working as intended. However, if you see a red, yellow, or orange dot, that means that the service is down. If this is the case for you, you do not need to do anything, just be patient and Apple will fix it shortly.
2. Restart your Mac. You can restart your Mac by going to the Apple menu and Restart.
If this does not solve your problem, then quit the TV app first and then restart your computer. To quit the TV app, open the app and then click TV (menu bar) and click Quit TV.
3. Update your Mac. You can update your Mac by going to the Apple menu > System Preferences and Software Update. Here you can check for software updates. If there is an update available, click the Update Now button. Updating your Mac will also update the TV app.
4. Reset the TV app's warnings, cache and clear your play history. Here is how:
Open the TV app on your Mac
Click TV and Preferences (top menu bar)
Click the Advanced tab
Then click the 'Reset Warnings', 'Reset Cache' and Clear Play History' buttons.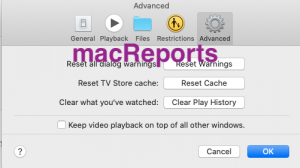 5. Sign out of the TV app and then sign back in. Here is how:
Open the TV app
Click Account (menu bar)
Click Sign Out
Then sing in by going to Account and sign in.
Another related issue about this may be about your Apple ID. Is your Apple ID working? Apple may sometimes lock or disable Apple IDs for security reasons. Is your Apple ID disabled or locked, see this article to unlock it.
6. On your Mac, make sure that the date and time settings are correct. Here is how you can check this:
Click the Apple menu
Click System Preferences
Click Date and Time.
Click the Date & Time tab
Is this information correct? If date and time settings show wrong information, change it. To change, click the lock icon (bottom left corner) and enter your password. You can also check the "set date and time automatically" box to have your Mac adjust automatically.
7. Restart your Mac in safe mode and then start normally. Here is how:
Turn off your Mac
Turn on your Mac and immediately press and hold the Shift key
Keep holding the Shift key until you see a login screen, then release the key
Now login (you may have to log in a few times)
Now your computer is in safe mode. Open TV on your Mac. Does your issue occur in safe mode?
Either case, restart your Mac normally, without the Shift key (exit safe mode)
Now again checks again if your issue is fixed.
If nothing above fixes your problem, contact Apple Support.
Apple brought this app to your Mac with macOS Catalina.