Text Messages Are Disappearing? Fix
It seems that some users are experiencing this problem. The problem is that the Messages app stops working properly for some users after updating their iPhone or iPad devices to the latest iOS software version or after restarting their devices. More specifically, here are the some symptoms that users are having:
The Messages app is only showing a blank, white screen, meaning all messages (text – SMS- and iMessages) seem to have disappeared and gone; however still red number badge indicates that there are some new messages.
Unable to send and receive new messages
The send (green or blue) arrow button is not working
Text message notifications and previews on the lock screen seem to be working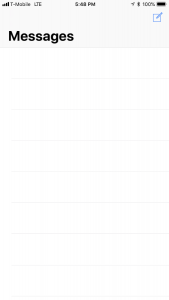 See also: Cannot Send or Receve Messages on Your Mac?
Text messages disappeared from iPhone or iPad?
Use these steps if the Messages app stops responding, or you encounter a problem while trying to access your messages. After each step, please check to see if your is resolved.
Restart your device. You may do so by going to Settings > General > Shut Down (iOS 11 or later)
Force restart your device. Read this article to learn how you can do this.
Turn on Airplay mode and wait a few seconds and turn it back off.
Go to Settings > Messages > Keep Messages and select 30 days (note that this option will delete your old messages, you may skip this if you do not want to that) and tap Delete.
Go to Settings > Messages and turn off iMessage and then MMS Messaging and wait a few seconds and turn them back on.
Update your device to the latest version of iOS. You can do that wirelessly by going to Settings  >  General > Software Update.
The last option is that you do a Factory Reset on the iPhone and restore from a recent backup file, if you still have this problem. Here is how:

Before you do anything, make sure that you have a backup file. You can check this by going to Settings > [Your Name] > iCloud > Storage > Manage Storage > Back ups, where you can see all of your backups.
If you want, especially if you do not have any back up, you can back up your device. Go to Settings > [Your Name] > iCloud > iCloud Backup and then tap Back Up Now (note that you can turn on iCloud Backup to automatically back up your device).
Now you have a backup file, simply go to Settings > General > Reset, then tap "Erase all content and settings." Simply follow the instructions. Make sure that you select Restore from iCloud Backup.
See also: Messages not in the right order?