The Finder Can't Quit Because An Operation Is Still In Progress On An iOS Device
Do you see the following message when you want to restart or turn off your Mac? This article explains how you can fix when you are unable to turn off and the Mac displays the "The Finder can't quit because an operation is still in progress on an iOS device" error message.

If the Finder came up with this error, you will not be able to shut down or restart your Mac until you resolve the problem.
See also: Crash Reports: How To Use Them To Troubleshoot Why Your Mac Crashed
'Finder can't quit' error
Please try each step one at a time until your issue is fixed:
1. Did you connect your iOS device to your Mac? Open finder and check to see if there's an iPhone or iPad syncing data. There are some things you should consider:
Wait until syncing and Finder usage is finished
When it is done, then properly eject your device from your Mac. To do so, open Finder, select your iOS device (the sidebar of the Finder window, under the heading "Locations") and click the eject icon as shown in the screenshot: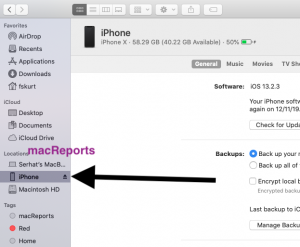 Please note that it is possible to sync your content using Wi-Fi without a USB cable. Are you doing this?  Again, open Finder, click the General tab, check to see if the "Show this [device] when on Wi-Fi." option is selected. If this option is selected, unselect this, then click Apply.
When you are done, try to shut down your Mac again. If this does not solve your problem, then continue.
2. Restart your iOS device and then try to shut down your Mac.
3. Try to Force Quit Finder. Here is how:
Press these keys together: Option, Command, and Esc (Escape)
This will open the Force Quit window
Select Finder
Then click Force Quit, this will restart Finder.
4. Press and hold the power button until your Mac turns off. Note that you may lose unsaved changes.
5. Open Activity Monitor on your Mac (Applications > Utilities). Then follow the steps below:
In Activity Monitor, click View (menu bar) and select All Processes.
Click the CPU tab
Click the %CPU icon to list the process to list them in descending order
Do you see any process using a large amount of CPU? (>70%). Select the process and then click the Quit icon and then click the Force Quit icon.
6. If this problem occurs again next time, try starting your Mac in Safe Mode. This may fix your problem. Here is how:
Shut down your computer, if you experience this problem, Force Quit the Finder app.
Turn on your Mac and immediately press and hold the Shift key
Release the Shift key when you see the login screen
Login (you may have to log in more than once)
Now your computer is in Safe Mode.
Test to see if your problem repeats in Safe Mode too.
Regardless of the result, restart your Mac normally, without pressing the Shift key.
See also: Mac Keeps Freezing? How To Fix