Unable to Sign into Ticketmaster, How to Fix
Some users have said that they can't sign into the Ticketmaster app or website on their iPhone, iPad or Mac. If you cannot log in to your account, you won't be able to manage your Ticketmaster account. There can be various reasons preventing you from accessing your account. It could be password or network-related problems. It could also be a security measure by Ticketmaster. If you experience this problem, you may get different error messages depending on the problem. For example:
Pardon the interruption. As you were browsing something about your browser made us think you were a bot. There are a few reasons this might happen: (1) You're a power user moving through this website with super-human speed (2) You've disabled JavaScript in your web browser (3) A third-party browser plugin, such as Chostery or NoScript is preventing JavaScript from running.

As I said above, this issue may occur when you are trying to log in to Ticketmaster using a browser (e.g., Safari or Chrome) or the Ticketmaster app. Here is what you can do:
Ticketmaster signing fix steps
Try these in this order until the issue is fixed:
Ensure that your username and password are correct. If you are getting error messages indicating wrong credentials, you may have to reset your password. If you need to reset your password, use the Forgot Password option on the login page. This option is available regardless of whether you are using the app or its web version.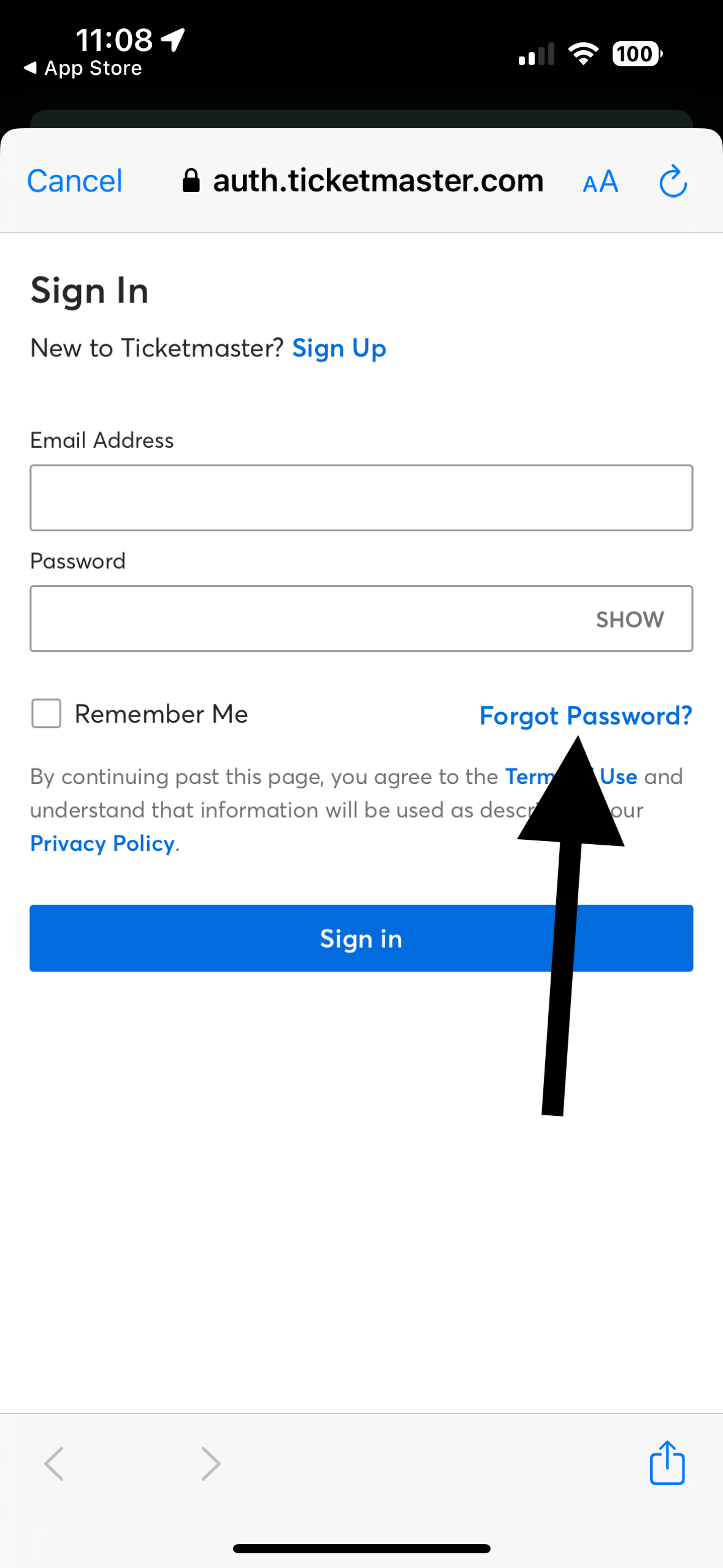 Ensure that your device has the latest version of iOS, iPadOS (Settings > General > Software Update) or macOS (System Settings > General > Software Update).
Ensure that your iPhone (iPad) has the latest version of the Ticketmaster app if you are using the app. You can manually update the app by going to the App Store.
Ensure that your iPhone, iPad or Mac is connected to the Internet with a Wi-Fi or cellular data connection. You can easily check your connection. Simply open Safari and visit macreports.com using the iPhone, iPad or Mac that gives this problem. Can you see our website without any issues? If the answer is yes, move to the next step. If the answer is no, troubleshoot your Internet connection. You can try the following if applicable:

Turn on Airplane Mode, then turn it off.
Restart your Wi-Fi modem/router.
Restart your device.
If you are still having connection problems, we have previously written several articles about connection problems. You can also check them out:

A common cause for this issue could be VPN. Although you may have an active connection, if you are using VPN, your connection may be causing issues that lead Ticketmaster to think you are a machine instead of a real person. Thus, Ticketmaster may block your connection. Fortunately, the fix is simple. Disable VPN to see if that makes any difference. You should note that some VPNs may turn on by themselves automatically if you turn them off within the app itself. Go to Settings > General > VPN & Device Management and ensure that VPN stays off on iPhone or iPad. On Mac, the same settings are available by going to System Settings > VPN.
Ensure that JavaScript is enabled. If you are using Safari, go to Settings > Safari > Advanced and turn on JavaScript. On Mac, you can find this setting by going to Safari > Settings > Security and checking the "Enable JavaScript" box.

Delete the Ticketmaster app and then reinstall it if you are using the app.
Try to log in to Ticketmaster on another device. For example, if you cannot log in on your iPhone, try to log in using your Mac. If this is not possible, try another method to sign in on the same device. For example, if you are using Safari, use Chrome, or if you are using the app, use the web. If you still cannot log in, see the next step.
If your issue continues, contact Ticketmaster support. There can be issues with your account. For example, your account may be suspended. Only Ticketmaster can know if your account is in good standing or not.
Related articles