What does Reset All Settings Do on iPhone and iPad
The Reset All Settings option lets you reset all your preference settings. This can be a good option to try before attempting a master reset, the "Erase All Content and Settings" option.
Reset All Settings doesn't erase any of your data such as files, documents, photos, videos, notes, email, or apps, but all settings and configurations you've made on your iPhone or iPad are deleted.
It is easy to reset all of your settings. Simply go to Settings > General > Reset > Reset All Settings and follow the onscreen instructions.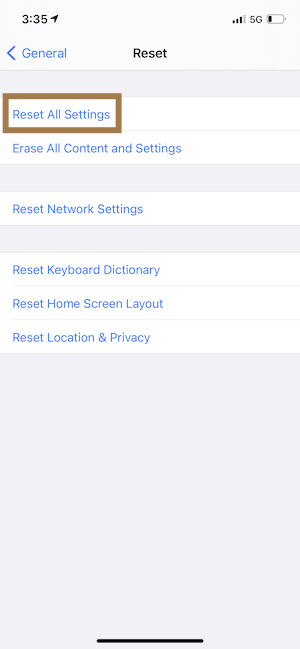 What does Reset All Settings Do?
When you reset all settings of your iPhone or iPad, all settings including the following will be deleted or reset to their defaults:
Network settings, including:

Previously saved Wi-Fi networks and passwords will be deleted. For example, your iPhone will no longer connect to your Wi-Fi network automatically.
Stored Hotspot connections will be erased.
Stored Bluetooth connections will be deleted.

The words you've added to your iPhone or iPad dictionary will be deleted.
Your Apple Pay cards will be removed.
Resets all of your device's settings like Wallpaper, Sounds, Display & Brightness, Background App Refresh, Date & Time, and more.
Resets Wi-Fi credentials in all iCloud Keychain devices that use the Apple ID if iCloud Keychain is turned on.
Deregisters your device from iMessage and FaceTime.
Removes your Touch ID & Passcode.
If Restrictions are turned on, it resets all of your restrictions.
Removes Face ID.
Resets accessibility settings.
It removes your encrypted backup password.
All your customized settings will be returned to the defaults, such as:
Airplane Mode: Off
Wi-Fi: On
Bluetooth: On
Data roaming: Off
Personal Hotspot: Off
VPN: off
Background App Refresh: On
Location Services for Apps: Off (Apps will stop using your location until you give them permission).
Ask to Join Network: On
What Reset All Settings doesn't do
It doesn't remove content stored on your device like apps, music, photos, or videos.
It doesn't remove content from your iCloud.
Your settings from built-in apps, like Safari and Mail, will be the same.
The settings of any third-party apps that you're using won't be changed.
Your iCloud settings will be the same. For example, Find My will not be removed. Activation Lock will not be removed.
It won't reset the list of trusted computers. You will not see "Trust This Computer" alerts after the reset unless it is a new computer.
It doesn't reset your iTunes & App Store settings. You will not lose your purchases.
Your social media settings will remain the same. Your social accounts on your device will stay.
Your Privacy settings won't be changed.
It doesn't reorganize your apps or folders. If you created app folders, they will not be deleted. The built-in apps will not be moved to their original layout on the Home Screen.
You will not be signed out of iCloud and the App Store.
See also: