What is the Services Menu in macOS?
You may or may not have noticed a menu option for apps in macOS called Services. Services is something that will let you use a feature from another app – without having to open that app. So essentially, it is a way to access shortcuts that will allow you to do small tasks quickly. You can either make use of available Services menu shortcuts, or you can create your own. In this article, we will tell you how to access the Services menu, what you can do with it, and how to customize it to speed up your workflow.
How to Use Services
First, to find Services:
There are different times when you can use the Services menu, and with different options available; So as an example, open Safari and select some text.
Now go to the menu at the top and select Safari, then scroll down to Services.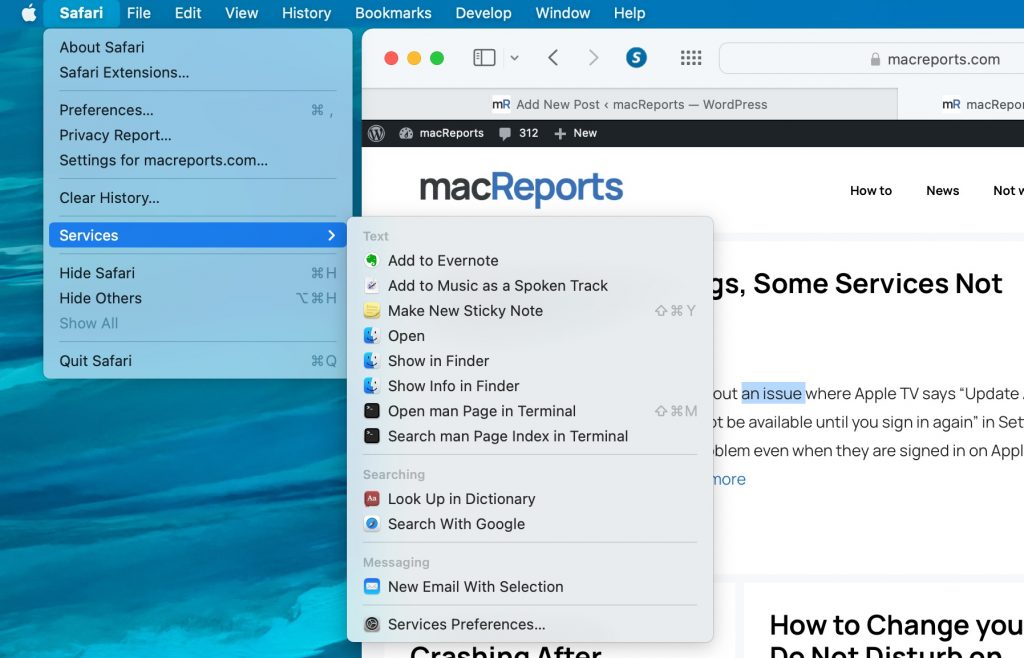 You can see many different options here. Some of the options available may depend on the apps you have installed, and if you have made any modifications to your Services menu.
You can also access the services menu by right-clicking on the words you highlighted.
Other types of Services are available when you select files. You can either select files on your desktop or in Finder, then go to Finder in the top menu and scroll down to Services to see what you can do with the selected files.
How to Customize your Services Menu
You can customize your Services menu in System Preferences. You can:
Select and unselect Service menu items already listed.
Create keyboard shortcuts for items that you will use often.
Create new Service menu items using Automator.
Some of the things that you will find in the Services menu options aren't relevant to a particular app. Those items won't show up in the app's Services menu, if you can't actually use them.
Select/Unselect Menu Items
Go to Apple menu  > System Preferences. Click on Keyboard, then click on the Shortcuts tab.
In the menu on the left side of the window, click on Services.
All of the Service menu option will show. You can scroll to see more.
To add an option, check the box next to it. To remove it, uncheck the box.
Each of the available options is listed under a category, such as Pictures, Messaging, and Development. You can scroll through the available options more easily if you click on the "carrots" next to the category headings to collapse that category.
Add Keyboard Shortcuts for Services
If there is an option available in the Services menu that you will use often, you can create a keyboard shortcut for it. This will save you the step of going to the menu every time you want to use the service.
From System Preferences > Keyboard > Shortcuts, with Services highlighted in the left-side list (see above):
Click on a Services menu item. You should see "Add Shortcut" appear next to the item. Click on Add Shortcut.
Type the key combination you want to use as your keyboard shortcut.
"Add Shortcut" may reappear after you enter your shortcut. Click on Add Shortcut or on another item in the list and you will see your shortcut key combination appear next to the item.
Create New Items using Automator
There are many tutorials out there on using Automator, and many ideas for creating items that will help speed up your workflow. Here are a few of our articles which outline the steps for creating different Automations – that you can add to your Services menu. You can write an Automation to convert files to another type, close all your apps at once, or rename a batch of files to something more meaningful, without renaming each one individually.
Related Articles