What You Can Do with an Apple ID without an Apple Device
An Apple ID is your Apple account that is used for all Apple services and devices as an authentication method. You can get an Apple ID when setting up a new device. You can also create an Apple ID on the web even if you do not have an Apple device. All you need is an email account and a phone number. Your email account will be your Apple ID and your email and phone number will be associated with the account.
There are a lot of awesome things you can do with your Apple ID. This article explains what you can do with an Apple ID account even if you do not have an Apple device. We also list some of the Apple services you may not use Apple ID, if you do not have an Apple device.
How to create an Apple ID
You can create an Apple ID on your Apple device, iPhone, iPad or Mac. If you do not own an Apple device, you can go to the Apple ID website and create your own Apple ID. It is free of charge. You do not need a credit card.
As stated above, you will need to enter your email address. This email address will be your new Apple ID. You can later change your Apple ID email, if needed. You will also need to enter your name, address and phone number. So, where can you use your Apple ID?
What you can do
iCloud and iCloud Drive
iCloud Drive is a great cloud service to store all your documents (Pages), presentations (Numbers) and spreadsheets (Keynote). It lets you store, share, and collaborate on files and folders. You can use any mobile device, tablet, or computer to create and share files. You get 5 GB of space in your Drive for free. If needed, you can buy more space. Here is how:
On your computer, visit iCloud.com and sign in using your new Apple ID.
Here you can create Pages documents, Numbers spreadsheets and Keynote presentations online. You can also store and access your documents.
Apple Online Discussions
Apple offers a lot of different support options. One of them is the Apple Communities website, a forum for discussions of Apple products. This enables millions of other Apple users to have discussions about Apple's products and how to use them.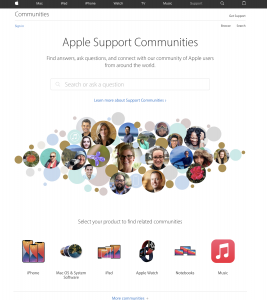 This is a great place to learn, share, and troubleshoot. With your new Apple ID, you can join. You can post your questions for others to answer. You can also answer others' questions.
If you are interested in this, please visit the Apple Support Communities website. You can browse and read the forums without signing in. However, you will need to have an Apple ID to participate and ask or answer questions.
Sign in with Apple
You can use your Apple ID to sign in to third-party apps and websites. The biggest benefit of using this is probably privacy. This will let you hide your email address. Furthermore, you won't have to remember individual usernames and passwords for each account. And lastly, creating a new account with every app you want to use or website you visit can be difficult and time consuming.
There are a lot of apps and websites support Sign in With Apple, such as:
Many Adobe websites and apps such as Adobe Acrobat, Adobe Lightroom, Adobe Photoshop
Apple Developer
You can use your Apple ID to sign in to Apple Developer. It is even possible to sideload apps on the iPhone, iPad, and Apple TV using a free Apple ID.
Furthermore, you can enroll in the Apple Developer Program. But this will require additional steps that you will need to complete. Simply follow the onscreen instructions. You will need to do this if you want to develop software for macOS, iOS, tvOS, or watchOS.
See also: Cannot Reset Apple ID Security Questions? Fix
What you cannot do
Since you do not have an Apple device, your Apple ID use will be limited. You won't be able to use the following services unless you have an Apple device:
FaceTime
iMessage
App Store
Mac App Store
Apple TV, Apple TV+
Apple Pay
Apple Music
Apple News
Apple Books
Find My
You can also delete your Apple ID.
See also: Phishing for Apple ID Accounts: Scam Emails and Texts