WhatsApp Calls Not Ending after Hanging Up, How to Fix
I was having this problem on my iPhone. I was able to make video or voice calls, however, when I wanted to finish the call by tapping the red End button, it appeared that the call was never ending even though voice or video feeds were stopped. Here are more details about this problem:
The call banner on the top of the screen indicating the iPhone is on call is still present even after the call is supposed to have ended.
The same issue occurs even when the recipient does not answer the call.
This issue usually lasts less than a minute after the call is ended.
Since the call has not fully ended — the speakers, camera or microphone are still used by WhatsApp — you won't be able to make new calls or take photos. You may get, for example, an error message saying, "You cannot place a WhatsApp call if you're already on another call" when you want to make a new call.
When I tried to close the app by opening the App Switcher, it was not possible to close the app; the app appeared to be stuck, saying "call disconnecting."
WhatsApp is used by millions of people. You can use it to make free voice or video calls over the Internet with other WhatsApp users, regardless of the device category. If you are having this issue with your calls, I explain in this article what you can do to fix it.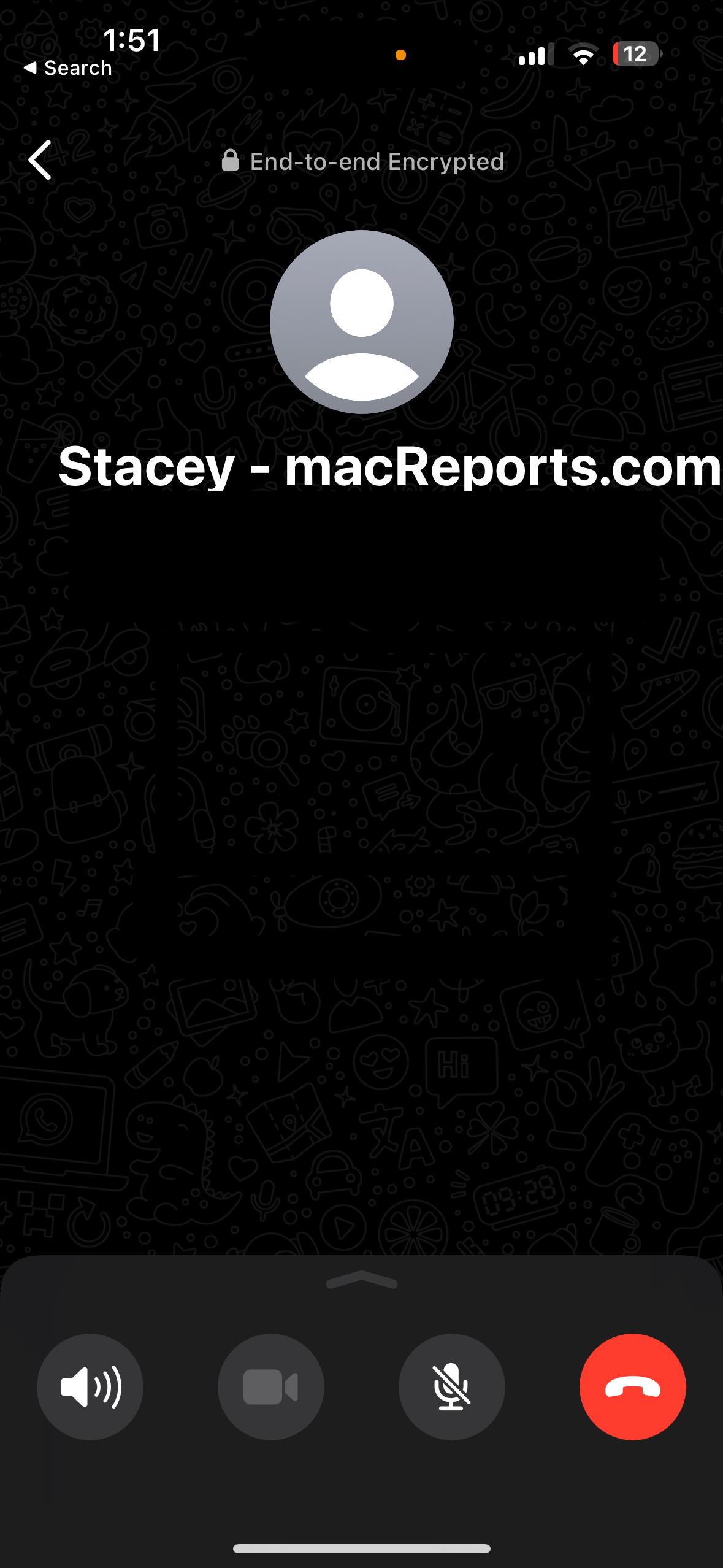 See also: FaceTime Call Won't End? Fix
Restart
Restarting is a sort of catch-all troubleshooting tip. As always, I recommend restarting your iPhone to see if this fixes this problem:
iPhone X and later (iPhone models without a Home button): Press and hold the volume up (or down) and the side buttons together until you see the power-off slider. Move the slider to the right and wait for your iPhone to completely power off. Then press and hold the side button again to turn on your iPhone.
Other iPhone models: Press and hold the side or top button until you see the power-off slider. Drag the slider. Wait around 30 seconds until your iPhone has turned off. Then press and hold the side or top button again to turn it on.
Update iPhone and WhatsApp
Ensure that you are using the latest version of iOS and WhatsApp. First, ensure that your iPhone is up to date. Go to Settings > General > Software Update. Your iPhone will check for updates. if there is an update, update your iPhone. If you want to never worry about updates again, you can turn on Automatic Updates. Go to Settings > General > Software Update > Automatic Updates and customize your options.
Then let us ensure that WhatsApp is up to date. By default, apps are updated automatically unless you turn this feature off. You can check if automatic app updates are enabled by going to Settings > App Store > App Updates. You can also update manually. Open the App Store app on your iPhone and tap your profile icon. Check the Available Updates section. If you see WhatsApp there, tap Update.
You can also check if you are running the latest WhatsApp version. Open the App Store. Using the search option, search WhatsApp. When you find WhatsApp, if it says "open," that means you have the latest version.
Turn off proxy or VPN
If you are connected to the Internet over VPN or proxy, they can cause issues with other network connections like WhatsApp calls. Disable them and then place WhatsApp calls. Has your WhatsApp returned to normal? If the answer is yes, then they were probably causing the problem. You can contact your system admin or the developer of the app for more support.
Offload WhatsApp
Offloading is like deleting the app without deleting your content. In other words, you can delete WhatsApp without deleting your chat history. If your issue continues, do this.
Let's first create a backup of your WhatsApp data, just in case. You can back it up to iCloud. You can do so by going to Settings > Chats > Chat Backup > Back Up Now in the WhatsApp app.
After creating a backup, on your iPhone, go to Settings > General > iPhone Storage > WhatsApp and then tap Offload App.
After offloading, restart your iPhone.
Now reinstall WhatsApp. There are two ways:

Settings > General > iPhone Storage > WhatsApp > Reinstall App.
Or, find the WhatsApp app icon on your home screen or in the App Library with an arrow in front of it. Tap to download and install it.
Related articles