Your Account Has Been Disabled in the App Store and iTunes, Fix
This article explains what you can do to fix if you encounter the "Your account has been disabled in the App Store and iTunes" error when you attempt to buy, download or update apps. You will not be able to download apps, until you fix this problem.
Without a working Apple ID, you will not be able to do a lot of things: buy, update apps, rent movies etc. You will not be able to use many apps and services such as App Store, Apple Music, iCloud, iMessage, FaceTime, iTunes Store and many more. So this is a serious problem.
See this article, if your Apple ID is disabled or locked.
Here is how you can troubleshoot:
"Your account has been disabled" fix: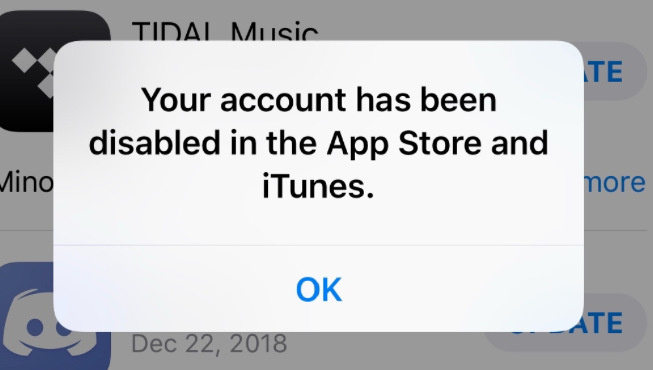 1. It is possible that you entered wrong Apple ID passwords too many times. Just wait and try the next day.
2. Please try the following steps. This will unlock your Apple ID.
Enter your Apple ID and click Continue
The web site will ask you a few questions (your phone number etc) to verify that Apple ID belongs to you.
Follow the instructions
3. If you are still having problems. thy this step. What this step will do is to reset your Apple ID password so that you can regain access to your account. This is a bit more complex. You are going to need a trusted device or trusted phone number to unlock your Apple ID, if you enabled two-factor authentication. Apple explains how you can do this. Please note that after changing your Apple ID password, follow the steps below:
On your iOS device, Settings > [your name] > iTunes & App Store and Sign Out. Then Sign in using your new Apple ID password.
On Mac, open App Store (Store > Sign Out) and iTunes (Account > Sign Out) and then sign out and then sign in.
4. If number #3 does not help, now you may want to contact iTunes support. Please note that steps below may be slightly different for you depending on your region. Here is how:
Select your region
This will take you to the your region's iTunes support page
Scroll down and find and click the "Contact Apple Support" section
Click "iTunes Store: Purchasing music, movies, apps and books"
Click "Account Management"
And now select "Account disabled in the App Store and iTunes Store alert" 
Now you can schedule a call from Apple Support. They will call and help you.