Your Apple ID was Used to Sign in to iCloud via Web Browser, What Does This Mean?
It is important to protect your Apple ID. Basically, your Apple ID is a unique identifier that is tied to your Apple account. You need an Apple ID to be able to use Apple services such as the App Store, iMessage, FaceTime, iCloud and more. Your Apple account may contain a lot of essential and sensitive data about you. This is why you should ensure that no one else can access this account. Apple employs a lot of practices to safeguard your Apple ID. One of them is to send an email to your Apple ID when someone (hopefully you) accessed icloud.com online. The email message will look like this: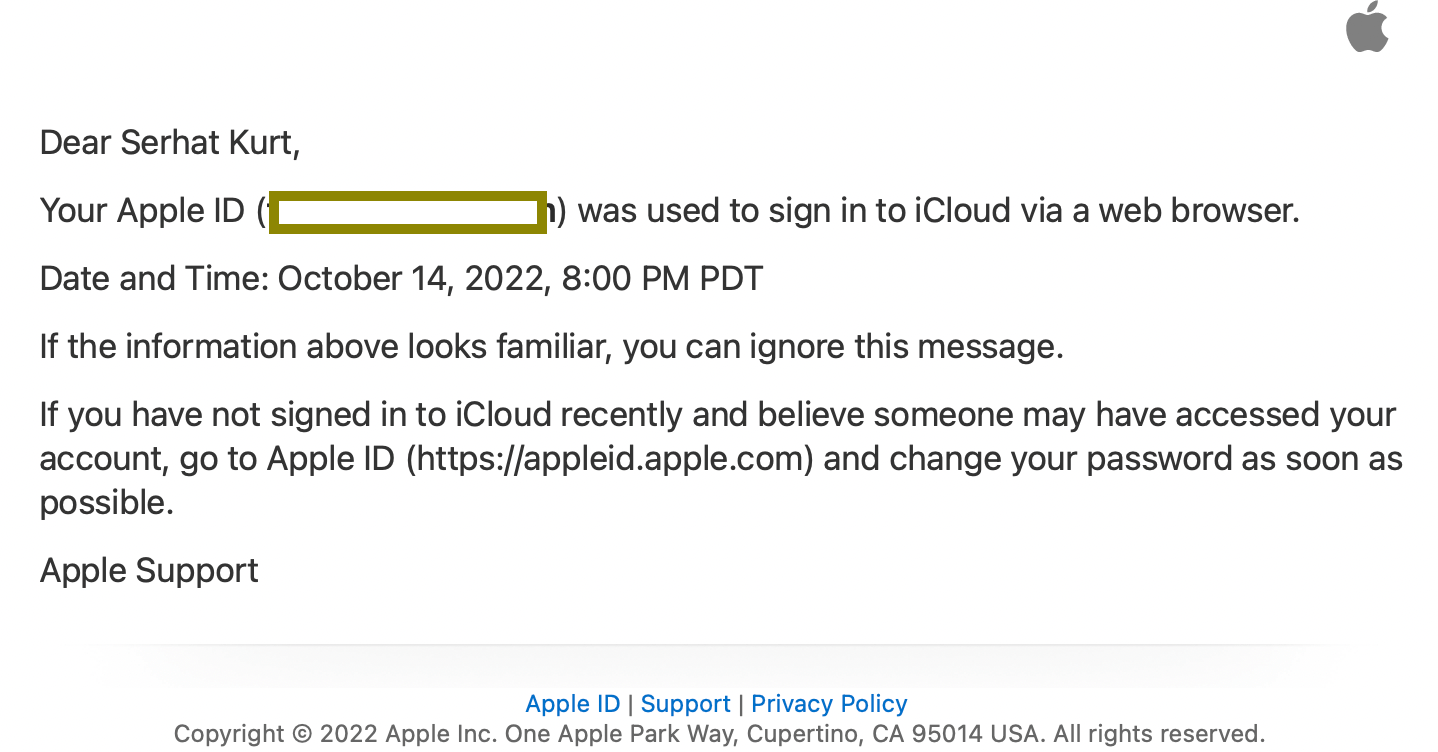 Why you may get the "your Apple ID was used to sign in to iCloud" message
You can sign in to iCloud.com with your Apple ID using a web browser like Safari. Once you log in, you can view your information stored in iCloud using the browser. And after you login in to iCloud.com, Apple will send an email letting you know that someone accessed iCloud.com using your Apple ID. It is highly likely that this someone is you. If you get this email, here is what you should do:
The email message includes the date and time of the access. If you logged in to iCloud.com at that date and time mentioned in the email, you can ignore this message. This means that the email is coming from Apple. This is only a precautionary email. Do nothing. This email came from [email protected]. You would have gotten this email right after you logged in. The authentic email will always say, "Dear [the name Apple has on file for you]," as you can see in the attachment above. It won't say Dear client, Dear sir, Dear customer or something like that.
If you have not logged in to iCloud.com recently and still got this message, this means one of these two things:

Someone who isn't you may have entered your Apple ID and password correctly and were able to access your account on iCloud.com. This is bad. See the next section about what you should do. In fact, this is the purpose of this email message — so you would know when someone accessed icloud.com using your credentials. Now you know.
This message is fake; someone sent it to you in an attempt to obtain your Apple ID password. In other words, this is a phishing attempt. Someone faked the email message. Phishing is a type of online fraud that occurs when someone poses as a trustworthy source, in this case, Apple, in order to trick you into giving them your personal information, such as a password like your Apple ID password. Note that this may look like it came from an Apple email address, but email addresses can be spoofed.
What you should do if you did not log into iCloud.com recently and got this message
Do not click anywhere in the email. The email may say things like "click here" to change your Apple ID. Do not do that. The text may look like a legitimate Apple URL address, but the link could actually take you to a different URL.
Go to this URL: https://appleid.apple.com. This is the official Apple URL. Change your Apple ID password as soon as possible. There are other ways to change your Apple ID password. See this Apple documentation to learn more about them.
Enable two-factor authentication for additional security.
Report this fake email to Apple by emailing them at [email protected]. Ensure that you take a screenshot of the message and attach it to your email.
If you do not have an Apple ID, this is obviously a bad scam attempt. Do not do anything. Trash the message.
Also, review this documentation explaining how you can recognize scams.
If you see a device you do not recognize in your Apple ID device list, remove it.
Why keep your Apple ID safe and secure
To prevent unauthorized access to your Apple account and personal information: Your Apple ID is used to gain access to many Apple services, including the App Store, iCloud, iTunes, and more. If your Apple ID is compromised, someone could gain access to your account and your personal information and your data and files stored in iCloud.
To prevent someone from making purchases in your name: Your Apple ID is also used to authenticate your device when you use certain features, such as Apple Pay. If your Apple ID is compromised, someone could use your device to make unauthorized purchases.
To maintain the security of your account: Finally, your Apple ID is your online identity. If someone gains access to your Apple ID, they could impersonate you online and gain access to your personal information like your photos, videos or even your financial information.
Related articles