Apple Releases iOS 13.7 with an Update to Exposure Notification
Apple just released iOS 13.7 with a new feature to help public health authorities with Covid-19 contact tracing. Exposure Notification Express is built into iOS 13.7 so that users no longer need a separate app to participate. If you live in an area that has adopted the contact tracing system, you can opt in to the feature on your iPhone.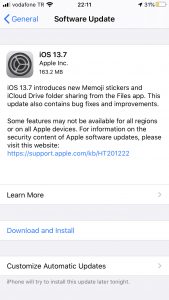 The way this contact tracing works is that if you come within 6 feet of someone, this encounter will be logged using Bluetooth. If it turns out that someone you were near tests positive for Covid-19, you will be notified. If you test positive, you can report this and your close encounters will be notified.
See also: "Estimating Time Remaining" iOS Update Stuck, Fix
It is important to note that all of this is voluntary. You can choose to turn on the contact tracing feature on your iPhone. If you test positive yourself, you can choose to report this and have others be notified. Your identity is never shared with other users of the system.
Contact tracing can help make sure individuals who have been exposed to the virus find out sooner, get tested, and if necessary isolate themselves to help prevent the spread. The Exposure Notification Express system makes it easier and faster for health authorities to adopt and use the Exposure Notification system.
In the U.S., the new Exposure Notification Express feature is set to be supported in Washington D.C., Maryland, Virginia, and Nevada. You can download the update by going to Settings > General > Software Update and clicking Download and Install. To opt in to the feature, go to Settings > Exposure Notifications and then select Turn on Exposure Notifications. After you choose your country and region, your iPhone will indicate if your region is using the Exposure Notification system.