App Review Popups? How To Stop Them
You are playing your favorite game on your iPad or iPhone and suddenly you are interrupted because you are asked to rate and review the app. It is annoying so you may want to put a stop to this. This short guide explains how you can stop apps from asking ratings or reviews so that they cannot annoy you with their review prompts anymore.
See also: App Store Blank?
These App Store reviews are very important for developers to increase rankings and downloads. Positive reviews will impress potential future customers. For instance, App developers may ask you and other users for ratings and reviews to give feedback on your experience with their apps, something like this:
Enjoying…..? Tap a star to rate it on the App Store.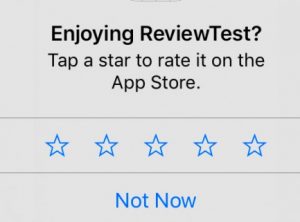 It used to be that developers was able to display review popups however and whenever they'd like. That has recently changed. Now Apple does not allow this.  There are many limitations for developers. Furthermore, iOS now lets you turn off apps asking to rate them. Here is how:
Tap Settings
Tao iTunes & App Store
and toggle off "In-App Ratings & Reviews"
Exit Settings
Note this option is turned on by default.
So, you disable this option and see still review popups? This is because. since Apple has implemented this change recently, some apps may not be fully up to code yet. But they will. Apple has given developers a grace period.
Note that even if you leave this option on, it is not as bad as it used to be. As stated above, Apple has implemented many restrictions and limitations:
If you are asked for a review, and you decide to review, you will be able to leave a rating without exiting the app. This is a huge plus. You will not have to stop what you are doing. It will be a lot more convenient to leave a review.
Developers can now only display these popups only three times a year. If you write a review, you will never see it again. This will prevent many apps from aggressively asking for feedback.
See also: How To Cancel Apple Subscriptions