iPhone X Wake Up Settings
Your iPhone X will wake up when you (1) press the side button (2) tap you screen (3) raise your phone. And once you wake up your phone, you can check notifications, check the time and date (I usually do that), take photos and turn on flashlight without having to unlocking your device.
See also: Notifications Disappearing From Lock Screen? Fix
Your phone lets you enable or disable these settings. You can allow or disallow the display on your to iPhone X to awaken when you raise it or when you tap the screen.
Raise to wake
Pick up your device and when you raise your iPhone X to look at it, you phone will wake up. This is on by default.
If you do not want your phone to wake up when it is raised, you can easily change this setting. You may want to do this for various reasons, for instance, this may help you save and extend your device's battery life. To do that, go to:
Settings
Display & Brightness
and toggle off 'Raise to Wake'.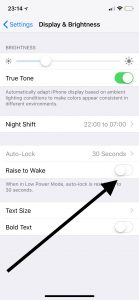 Now when you raise your phone, nothing will happen. If you disable this and want to enable again, you can do so again by going to Settings > Display & Brightness.
Tap your screen
When you touch your screen, your device will wake up. This feature is enabled by default. You may also want to stop this. For instance, accidental taps (taps you do not mean to do) will drain your battery. Fortunately there is a way to disable this feature. If you want your phone not to wake up when you tap the screen, go to:
Settings
General
Accessibility and find the Interaction section
and toggle off 'Tap to Wake'.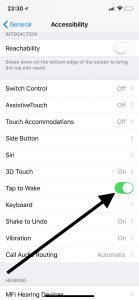 Now when you tap the screen, nothing will happen. You can always reenable this again easily.
If you disable both 'Raise to Wake' and 'Tap to Wake', you will still be able to wake your phone by pressing the side button.
See also: How To Record Your iPhone or iPad Screen