What Does Emergency Override Mean?
When you attempt to charge your iPhone, your device may show a warning message saying "Charging Not Available" or "Liquid Detected in Lightning Connector" if your iPhone detects moisture or liquid in the Lightning port. The full message says:
"Liquid has been detected in the Lightning connector. Disconnect to allow the connector to dry. Charging now may damage your iPhone"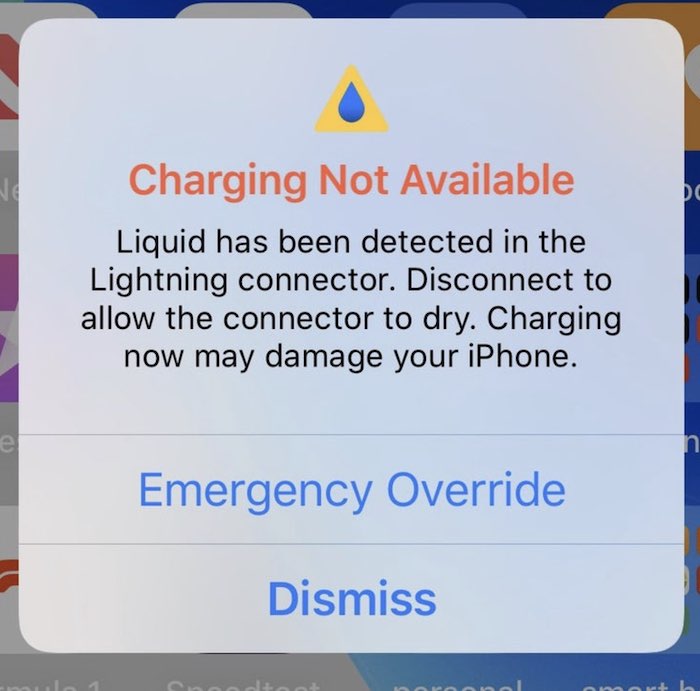 The warning also includes two options: Emergency Override and Dismiss. When you see this message, you may wonder what would happen if you tap the "Emergency Override" option. This article explains what this option means and does.
Your iPhone includes a built-in moisture detection feature. This feature will help you avoid damage because exposure to water can be very dangerous.
Emergency Override
You are seeing this message when your iPhone is plugged in because moisture or liquid is present in the charging port of the iPhone. When your device shows this message, it means that charging via the charging port is unavailable. In other words, this message indicates that charging is disabled. This is an iOS preventive feature designed to prevent corrosion as charging can cause permanent damage to device internals if the charging port is wet. This may also cause a short circuit.
This notification will go away automatically once the phone detects that the port is completely dry.
If you see this message, you have basically three options you can do:
1. Select Emergency Override
Selecting this option will enable you to charge your iPhone by overriding the automatic charging disablement feature. This option is to be used if it is an emergency and you need to charge your phone.
This will start charging but also this may damage your iPhone. Use this option only if you are in an emergency.
2. Use a wireless charger
If you are in an emergency, you may still charge your iPhone using a wireless charger, if the Lightning port is wet as this does not affect wireless charging. However, you can only use this option, if your device supports wireless charging and if you have a wireless charger. If you have an iPhone 8 or later, you can wirelessly charge your iPhone.
3. Wait
If you are not in an emergency, you should unplug the charging cable and just wait and then keep your device unplugged until you are sure that both the cable and port are dry. Water will eventually evaporate and then you can charge your iPhone again. This may take a few hours to dry completely.
If your iPhone is wet
The water resistance of phones and tablets is rated by an IP rating. Below is a list of all iPhone models that are backed by the rating of IP68:
iPhone 13
iPhone 13 mini
iPhone 13 Pro
iPhone 13 Pro Max
iPhone 12
iPhone 12 mini
iPhone 12 Pro
iPhone 12 Pro Max
iPhone 11 Pro
iPhone 11 Pro Max
iPhone 11
iPhone XS
iPhone XS Max
These models have an IP67 rating:
iPhone SE (2nd generation)
iPhone XR
iPhone X
iPhone 8
iPhone 8 Plus
iPhone 7
iPhone 7 Plus
If your iPhone is wet, do these:
Unplug all cables.
Turn off your device.
Do not charge your device (you may be able to charge wirelessly).
Do not use a blow dryer or a similar device.
Remove the case, if there is one.
See also: