Adobe Acrobat Reader Not Working on Mac
Some Mac users have said that Adobe Acrobat Reader is not working properly on their Mac. Users have said they are having one or more of the following behaviors:
Users are unable to open PDF documents.
Users are unable to open Adobe Acrobat.
When users attempt to open a PDF document, Adobe Acrobat freezes.
Adobe Reader keeps showing a spinning wheel icon indicating that the app is not responsive or functioning very slowly.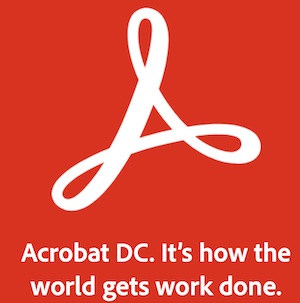 On your Mac, you can use Preview to view and annotate PDF documents. However, some users may prefer to use Adobe Acrobat Reader as it may offer more functionalities. Adobe offers two versions: Adobe Acrobat Reader, this is the free edition, and Adobe Acrobat Pro.
In this article, I explain what you can do to fix your Adobe Acrobat problem on your Mac.
Basic Adobe acrobat troubleshooting
Please try these first. After trying each step, open Adobe to see if you can view your PDF.
If Adobe Acrobat Reader is unresponsive, force-quit it and then try.
Restart your Mac.
Make sure that your Mac is connected to the Internet.
Make sure that your Mac is running the latest version of macOS. Go to System Preferences > Software Update to check, and if there is an update available, update your device.
Make sure that you are using the latest version of Adobe Acrobat. Here is how:

Open Adobe Reader or Acrobat.
And go to Help > Check for Updates.

Restart your Mac in Safe Mode and try to open a PDF in Adobe and then exit Safe Mode and test again.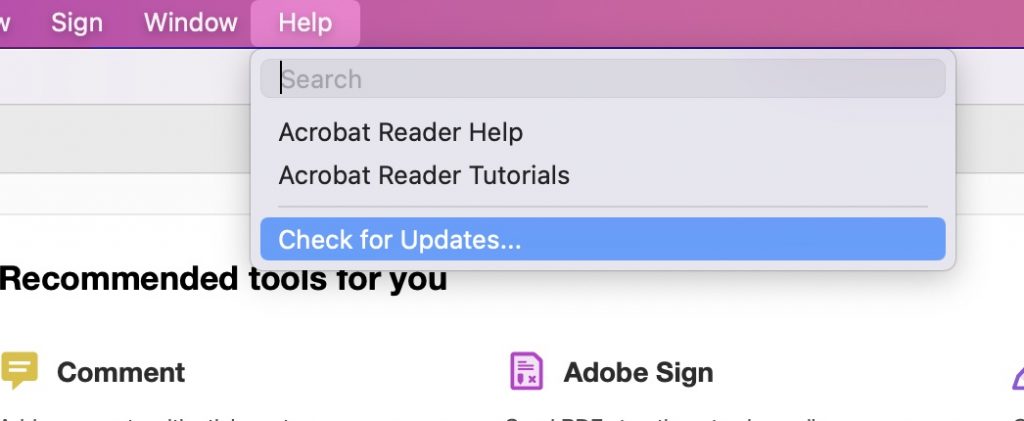 Delete your preference files and try again. Here is how:

Quit Adobe Acrobat if it is running.
Open the Library folder (Go to the Finder, press and hold the Option key and click Go > Library).
Open the Preferences folder.
Find the "com.adobe.Reader.plist" file.
Delete this file (you can move it to your desktop).
Restart your Mac.
If this does not fix your problem, you can put the preference files back.
Remove and reinstall
If the above tips do not help you fix this problem, you can completely remove the app from your Mac and then reinstall it. This will probably fix your problem. Follow these steps:
To remove the app, you can use the AcroCleaner. The AcroCleaner is an Adobe product that can be used to remove a standalone installation of Reader or Acrobat. This will remove everything including related preference or settings files. Here is how:

Quit Adobe if it is running. Then go to Finder > Applications and drag the Adobe icon to the Trash.
Download the AcroCleaner (follow this link).
Double click the AdobeAcroCleanerTool.dmg and click the AcroCleanerTool.app. And follow the onscreen instructions.
After you are done, restart your Mac.
Then download the Adobe app again.
Related articles: