Amazon Winner, Free Gift Card, Congratulations Scams & How To Stop Them
You probably get these type of pop up ads as well, as I get them often. These ads usually say "you have won something", "you have been selected for…", "Claim your prize", "you are todays lucky winner" or something about Amazon or Walmart.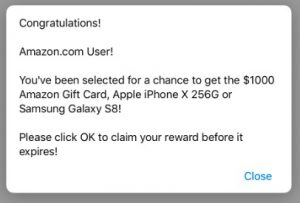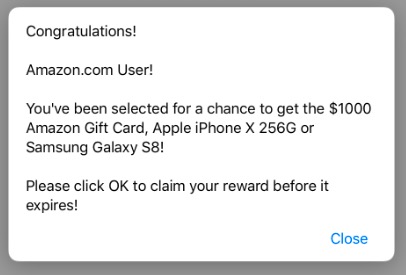 Sometimes you may see these ads while you are viewing very credible web sites like macreports (:)) or CNN etc; and then suddenly a full page pop up ads appear saying you won something etc; and it may seem that it is really almost impossible to get rid of the ad unless you click the "ok" button, which you should not do.
First thing is that do not worry, your iPhone does not have any virus, as iOS malware is very very rare. but these ads are very annoying.
Some of these are ads placed by the website that you are trying to visit. If this issue keeps happening, try this:
On your iPhone or iPad, tap Settings > Safari > Clear History and Website Data
See also: Critical Security Warning! Your Mac is Infected…Fix
However, some spammy ads may hijack your browser through deep linking and learning history may not resolve this problem. Try this:
On your iOS device go to Settings > Safari > Advanced > Website Data > and the find the website that redirect you to these adds and remove it by swiping left and then tapping Remove.
If you are unable to remove the ads, it is probably a website you visited was hijacked or Safari might be infected with some sort of adware.  Try the steps below:
Turn on Airplane Mode (Settings > Airplane Mode) so that you won't have any connection
Now clear history and web site data by going to Settings > Safari > Clear History and Website Data
Now force close the Safari app (do not open the Safari yet). Simply, double press the home button and then swipe up the Safari app preview or if you are using an iPhone X, swipe up and pause, then touch and hold the Safari app, then tap the minus (-) sign.
Restart your device
Now turn off Airplane Mode
Now try to open Safari and visit a website to see if your problem still exists.
See also: