How To Reset Forgotten Notes Password
This article explains how you can reset your locked Notes password, if you ever forget your password. As we explained before, you can lock Notes with a password or (faceID or Touch ID) to keep your    personal information safe. Sometimes, doing so might necessary so that your information will not be seen by others. So, what can you do if you forget your password.
When you lock a note, it will say "This note is locked." And in order to view the note, you need to enter its password.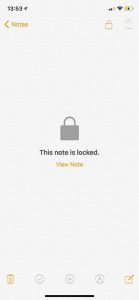 If you forget your original password, you can easily reset it. Resetting will allow you to create a new password for notes. Here is how:
iPhone or iPad
Please ensure that your iOS device is running the latest version of iOS software.
1-On your iOS device, tap Settings
2-Tap Notes
3-Tap Password
4-You will see a Changed Password option. You can change your password if you know the original password. The other option is "Reset Password". Tap Reset Password.
5-You will have to enter your Apple ID password and tap OK.
6-You will be asked to confirm. Tap again Reset password.
7-Now create a password and also enter a hint (if you think you may need it). This password will be used for all locked notes. Then tap Done.
Mac
1-Open the Notes app
2-Click Notes > Preferences
3-Click Reset Password
4-And now enter your iCloud Apple ID password and click OK.
5– And now enter your new password and then tap Set Password.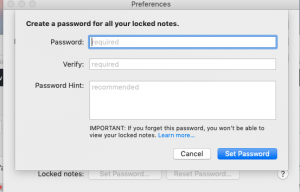 If you are having issues, you may want to contact Apple. Apple offers live chat. Also you may want to make a Genius Bar reservation.