How To Install Apple Apps Removed From iPhone, iPad or Apple Watch
This article explains how you can download and re-install built-in Apple apps that you previously removed from your iPhone, iPad, or Apple Watch.
iOS 12, iPadOS, and later lets you delete some built-in Apple apps. If you are running iOS 10, you can remove them from your Home screen, but you cannot delete them.
Built-in Apple apps are the default apps, meaning, your iPhone or iPad comes preloaded with a few different sets of Apple apps. And you may delete them and install some of them later if you prefer.
Please also note that removing apps may reduce some of your device's functionalities. After deleting, if you are unhappy with the results, do not worry, you can easily restore the lost functionalities by reinstalling these apps.
See also: How To Install Apps On Older Devices Running Older Versions Of iOS
Removable default apps
The following is a list of default apps that you can remove. Depending on the iOS version and device you have, you may not have all of these. Please note that when you delete these apps, they will also be removed from your Apple Watch, if you have one.
See also: Can't Remove iOS Apps (No 'X' Button)? Fix
Activity (see also: Activity App Keeps Crashing or Freezing)
Apple Books
Calculator, when you delete the Calculator app, Control Center will not have a calculator.
Calendar
Compass
Contacts, if you delete the Contacts app, you will not lose your contacts. They will still be available in the Phone app.
FaceTime, if you delete the FaceTime app, you can still make and answer FaceTime calls. But you will need to use the Contacts app or the Phone app.
Files
Find My Friends
Home
iTunes Store
iBooks
iCloud Drive
iTunes Store
Mail
Maps
Measure
Music
News (if available)
Notes
Podcasts
Reminders
Stocks, if you delete the Stocks app, Notification Center will not show stock information.
Tips
Videos or TV (if available)
Voice Memos
Watch App, if you have a paired device, you will need to unpair your Apple Watch.
Weather, if you delete the Weather app, Notification Center will not display weather data.
Restore a previously removed built-in app
Follow the steps below to add a previously removed built-in app:
See also: Unable to Install Update: An error Occurred Installing…
1. On your iPhone or iPad, open the App Store app.
2. Tap Search and then search for the app. Make sure that you enter its full name, such as Tips, Voice Memos, etc.
3. When you find the app, you will see a cloud /download icon near the app.
4. Click the Download button. This will redownload the app.
5. Wait for the app to download and install. This will restore the app. Then you can start using this app again.
Note: When you download an app on your iPhone or iPad, it will also be installed on your Apple Watch.
See also: Apps Not Installing or Downloading, Fix
Find all Apple Apps
This tip may save you some time and download all Apple apps that you removed previously. You can display all apps on the same screen and so that you can restore them quickly if you have a few apps that you want to restore. Here is how:
See also: iOS Apps Stuck Loading on iPhone or iPad, How To Fix
1. Open the App Store app on your device.
2. This time, enter "Apple" as the keyword. This will first display all of the Apps developed by Apple. But this mage may also contain other apps developed by third-party developers. This will be a long page.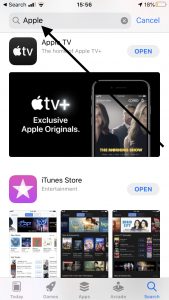 3. Scroll down, and find the apps you are looking for. If an app is saying "open", this means that that app is currently on your device. If an app is displaying the cloud icon, that means that that app was not on your device but previously installed.
4. Tap the cloud icons for apps you want to download again. Using this method, you can restore many apps at the same time.
See also: Automatic App Updates Not Working, Fix