iTunes Error 9006: An Unknown Error Occurred
In this short article, I am explaining how to fix iTunes error 9006. Last night I encountered this problem. You may also experience this problem when you want to download, restore, or update your iPhone or iPad. The error message is:
"There was a problem downloading software for the iPhone / iPad "An unknown error occurred (9006). Make sure your networks settings are correct and your network connection is active, or try again."
See also:
This message indicate that update, download or restore was failed. This error is usually triggered because there are some connection issues between iTunes and Apple servers.
Have you experienced this error? Try these solutions. You can fix this problem easily with following the steps below:
iTunes Error 9006 Fix
Before we start, make sure that:
you have the latest version of iTunes installed on your computer, PC or Mac. Here is how you can update:

macOS: Launch  iTunes and then select iTunes > Check for Updates
PC – Windows: Open iTunes and then select Help > Check for Updates

your Mac or Windows PC is up to date.

macOS: go to the Mac App Store. If you do not have the app store, then go to Apple Menu > Software Update
PC: you can turn on automatic updates. Settings > Update & security > Windows Update.

you log on as an administrator, as administrator accounts can install software.
you set the date and time correctly on your computer.
unplug extra USB cables like headphones etc. Keep only your iOS device, keyboard and mouse.
try using a different USB port on your computer.
try using a different USB cable.
try using a different computer.
try using a different Wi-Fi connection.
you have access to ports 80 and 443 on your network.
restart your computer.
restart your iOS device.
restart your router.
your router may be blocking iTunes. Try connecting your computer directly to you modem by using an ethernet cable.
You may also want to contact your internet provider (e.g., Comcast etc) because there might be an issue with your internet connection.
After these steps, try again.
See also: Unable to install update
Third-party security software
There may be issues between iTunes and third-party security software. Some security software may cause connection issues by preventing iTunes from communicating with Apple's servers. Thus your security software may be causing this problem.
Try temporarily disabling or uninstalling third-party security software to resolve this problem.
Quit iTunes
Disable or uninstall third-party software
Restart your computer
Then try again
Recovery mode
Try recovery mode. Here is how:
Quit iTunes
Connect your iOS device to your computer
Launch iTunes
Force restart your iPhone or iPad: Press and hold the Home and sleep/wake (on/off) buttons together until you see the recovery mode screen (if you have an iPhone 7 or iPhone 7 Plus, then press and hold the sleep/wake and volume down buttons together until you see the recovery mode screen)
You will see the options to Restore or Update, choose Update.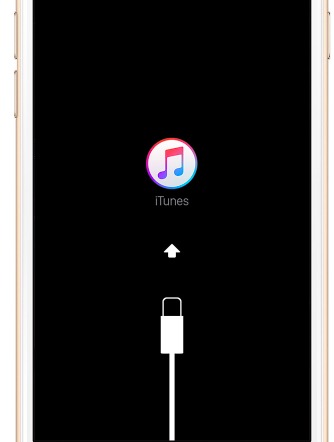 If nothing helps, contact Apple.