iOS: Gmail Won't Load, Blank Page, Fix
Sometimes, I experience this problem. I use the web version of Gmail. To check my emails, on my iPad or iPhone, I open Safari and go to gmail.com. However, sometimes, Safari displays a blank white page and I can't load Gmail.
I find this situation frustrating not be able to check your emails. Is Gmail not working for you on your iOS device? Is Gmail redirecting you to a blank page? If you are experiencing this issue, this article lists possible steps to fix this problem.
It seems that some users are having the same problem with the Gmail app. The tips below may also help you resolve this problem.
See also: Mail crashing?
Blank Gmail
1- Clear Web Site Data
Clearing the history, cookies, and cache of temporary web files saved with your web browser may fix this issue. So follow these steps:
On your iPad or iPhone, go to Settings
Tap Safari
Scroll down
Tap Clear History and Web Site Data and confirm again when you are asked to confirm.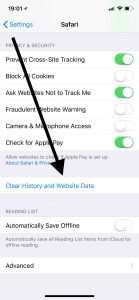 2- Restart the Safari app
Quitting and reopening the Safari app may fix this problem. Here is how:
If you have an iPad or iPhone 8 or an earlier iPhone model: Double press the Home button, and then swipe up on the Safari preview to close it. Then reopen and try to load gmail.com
If you have an iPhone X: Swipe up and stop and tap and hold on the Safari preview and then press the (-) icon to close it and then reopen.
3-Restart your iPad or iPhone
Simply restarting your device may help you.  You can do turn off your device by going to Settings > General > Shut Down.
4- Update your iPhone or iPad
Simply update your device to the latest version of iOS. Here is how:
On your iPhone or iPad, open the Settings app
Tap General
Tap Software Update
5- Gmail Labs
Open Safari, try visiting this URL (https://mail.google.com/?labs=0). If Gmail loads now, try turning off Gmail Labs. You can disable Gmail Labs by going to:
Gmail
Settings
 Labs
Disable
Save Changes
If you are still having issues, you may want to contact Google Support.
See also: How to customize your email signatures