Should You Turn On Wi-Fi Calling? Pros and Cons
While using your iPhone, you may notice an option to turn on or off a feature called Wi-Fi Calling in Settings. You may also see a popup message on your iPhone, iPad or Mac asking if you would like to enable Wi-Fi calling. You may wonder what the Wi-Fi Calling feature is and what would happen if you enable it. Does it affect the phone bill? This article answers these questions.
What is Wi-Fi calling?
Wi-Fi calling is a feature that enables you to make or receive regular phone calls or send text messages over a Wi-Fi connection instead of a cellular carrier. You cannot make or receive calls if you are located somewhere where cellular service is poor or non exist unless you are using Wi-Fi calling. You would need two things to use this feature:
Your carrier will need to support this. Some carriers may not offer this feature, but most do.
You will need to turn it on.
If you turn this on, you won't be charged extra for this feature. Basically, you will start making calls even if you have spotty or no cellular connection. For example, you can call people even in Airplane Mode, assuming Wi-Fi is turned on.
Wi-Fi calling is different than voice over IP (VoIP) applications like WhatsApp, FaceTime, Skype or similar. Wi-Fi calling is just like regular calling. You will not need a third-party app to use it. Calls over Wi-Fi calling will look like they are coming from your phone number.
Should you enable it?
If your carrier supports this, then the answer is probably. You can also decide for yourself after reading this article. The reach of your phone will be increased. To turn it on, go to Settings > Phone > Wi-Fi Calling.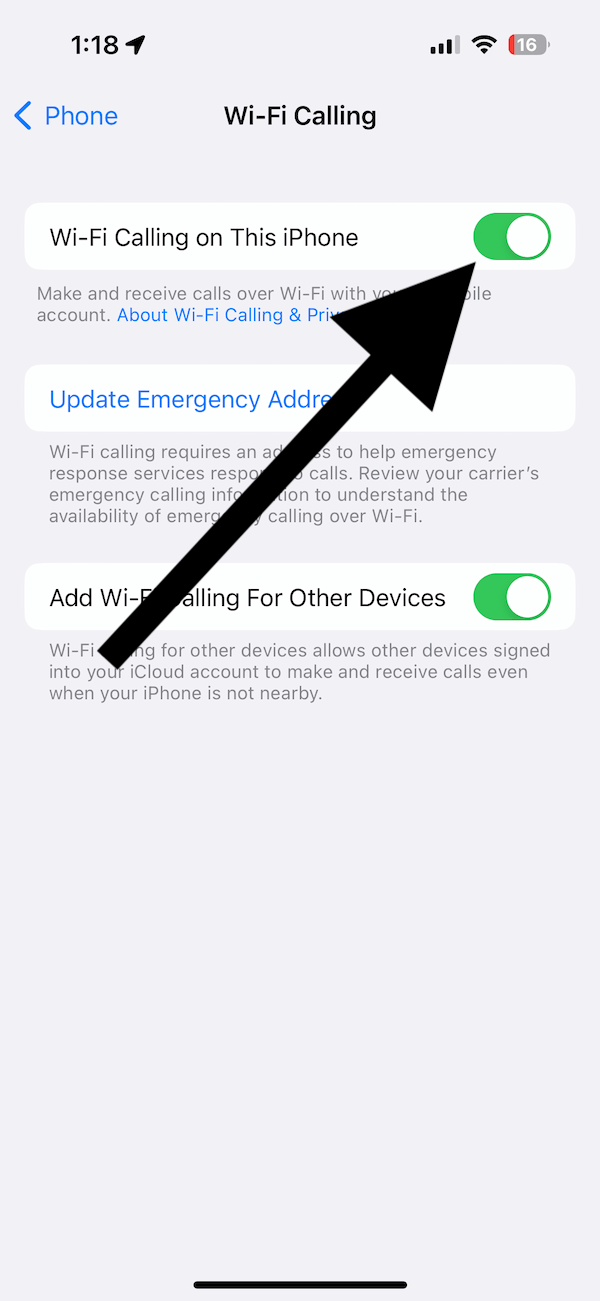 If you have multiple devices using the same Apple ID, you can use your devices with Wi-Fi calling. We previously explained how to use Wi-Fi calling on your Mac.
After enabling, when you make a call, your call will be routed to a Wi-Fi network instead of your service provider's network if the cellular connection is not strong enough. Your iPhone will automatically decide where to route the call, cellular or Wi-Fi, based on its connection strength.
When you make a call over Wi-Fi, your carrier will treat this as a regular call. You will not be charged extra for Wi-Fi calling. Furthermore, if your cellular plan includes a monthly talk limit, Wi-Fi calls will count as regular calls and thus be deducted from your monthly allowance.
How to know if you are making regular or Wi-Fi calls
You can easily know if your calls are going to be Wi-Fi or cellular. Simply open the Control Center on your iPhone. Then if you see "Wi-Fi" there, this means that Wi-Fi calling is available. If you see LTE, 5G or just the Wi-Fi icon, then cellular calling is available, as you can see below:
When you make calls over Wi-Fi, you will use Wi-Fi data. Voice calls usually use 1-5 MB of data.
Advantages of Wi-Fi calling
You can stay connected in places with no cellular connection, like in rural areas. Basically, your coverage will be extended.
You or the recipient will not need to install an app to use this feature. All calls over Wi-Fi will just be like regular calls.
Emergency services will still be able to locate you if you make calls over Wi-Fi. Ensure that your Emergency Address is present or accurate in Settings > Phone > Wi-Fi Calling.
There is no extra charge for this service as long as your carrier supports it.
If you have multiple Apple devices signed into the same iCloud account, you can make and receive Wi-Fi calls on your other devices like iPad, Mac or Apple Watch. Simply go to Settings > Phone > Wi-Fi Calling on your iPhone and turn on Add Wi-Fi Calling For Other Devices.
Disadvantages of Wi-Fi calling
Not all carriers support this feature. Some carriers offer this but only on certain plans. Your carrier or cellular plan may not support this.
It is likely that the place with no cellular connection won't have stable Wi-Fi. This may not always offer great convenience.
Much older iPhone models do not support this. You will need an iPhone 5c and later.
Related articles