iosapp.itunes.apple.com:80 Password Will Be Sent In The Clear Error, Fix
Several iPhone and/or iPad users have reported that they unexpectedly receive one of the following error messages:
"Authentication Required. To access this site, you need to log in to this area on iosapp.itunes.apple.com:80. Password will be sent in the clear"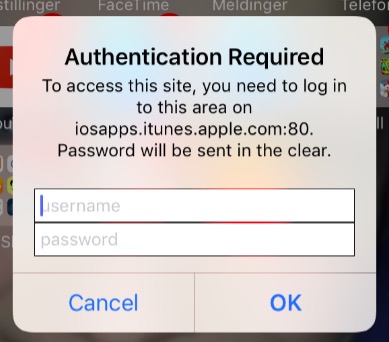 Or
"iosapp.itunes.apple.com:80. Password will be sent in the clear"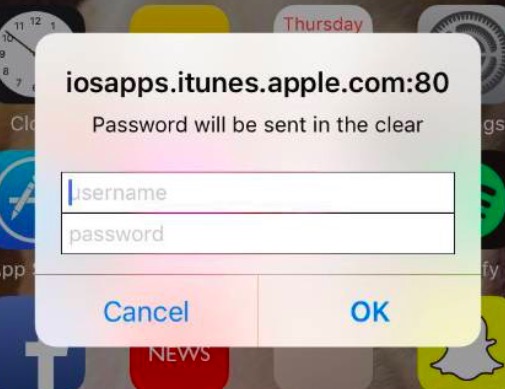 Or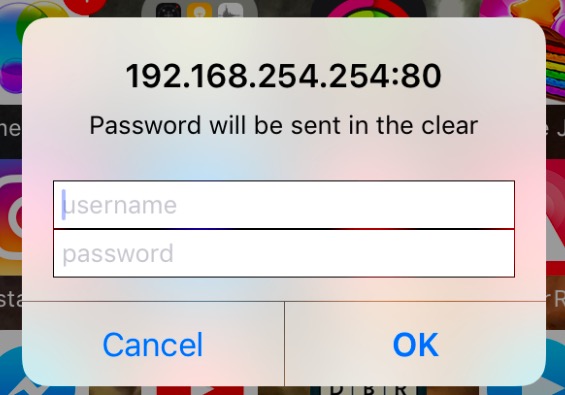 Or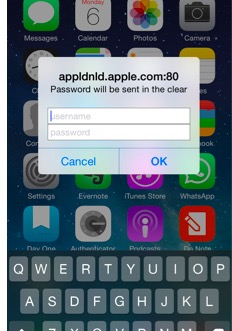 "appldnld.apple.com:80"
These messages ask you to enter your  username (not your Apple ID) credentials also it says "password will be sent in the clear" This means that your password will be sent unencrypted and insecurely.
From the users' reports, it seems that:
this popup appears unexpectedly
this error message keeps popping up
it is impossible to close it (won't go away)
pressing cancel does now help, does not resolve the problem
iPhone / iPad Popup Error Fixes
The first thing we should mention is that you do not need to worry. Your phone (or iPad) is not affected with a virus or other malware and you have not been hacked.
See: Critical Security Warning! Your Mac is Infected…Fix
A website may cause this. This could be caused by a website that would redirect to this. This can be resolved by removing the the website data. That way it can be refreshed. This can be done by going to Settings > Safari > Advanced > Website Data > Removed All Website data.
An wireless extender may cause this. If you have one, your iPhone or iPad may be trying to connect to it which may cause this error message. Turn off the extender then, on your iOS device, go to Settings > Wi-Fi and tap the extender Wi-Fi and then tap Forget This Network and restart your device.
Make sure that your iOS device has the latest version of the iOS software. To update go to Settings > General > Software Update
If you are using a VPN or a proxy server, turn it off and try again.
If nothing above works, restore from backup. Make sure to go to Settings > iCloud > Storage > Manage Storage and check to see if you have a recent backup. If not, back up your device manually by going to Settings > iCloud > Backup, then tap Back Up Now. Then go to Settings > General > Reset > "Erase all content and settings. This will delete all data but do not worry you have a backup. Your device will restart and the setup assistant will help you set up your device. When you see the "Apps and Data" screen, tap Restore from iCloud Backup.
See also: Connection Insecure: Unable to access / add email accounts