The Apple TV Library File Cannot Be Saved. An Unknown Error Occurred (-54)
Several users have said that they are receiving an alert message while trying to save an item from their Library in the TV app on your Mac. The error message says:
The Apple TV library file cannot be saved. An unknown error occurred (-54)
A lot of factors may cause this issue. Usually, you may experience this issue because of a lock on a file or a permissions error. For example, issues with third-party security software may cause this problem. Please try each step below. After trying each step and if you are still having the problem, then continue to the next section.
See also: macOS: iTunes Crashing? Fix
1. First, simply restart your Mac. You can restart your Mac by going to the Apple menu > Restart.
2. Quit the TV app and then restart. To quit the app, open the TV app and then select TV and Quit TV from the menu bar. Then reopen the TV app and try again.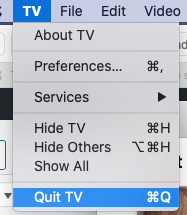 3. Update macOS. Make sure that you have the latest version of macOS. To update your Mac, go to the Apple menu > System Preferences > Software Update. If there is an update available, click Update.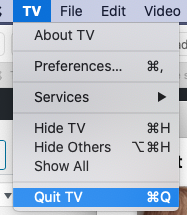 4. Ensure that the date, time, and time zone are set correctly on your Mac. You can adjust these settings by going to the Apple menu > System Preferences > Date & Time. If you see something not correct, change it. You can also select the "set date and time automatically" box. To do this, you need to click the lock icon to be able to make changes.
5. Third-party security and antivirus software, created by developers other than Apple, may interfere with your Mac's connection with the TV app. Thus your security software may be the cause. Here is what you can do:
Update your security or antivirus software, if there are updates available.
Temporarily remove or disable your security software to see if this fixes your problem. Consult with your software developer to do this.
6. Try to delete and then redownload the files. Here is how:
Open the TV app on your Mac and sign in with your Apple ID.
Click Account > Purchased, from the menu bar.
Find the content you want to redownload and click the cloud icon to download the item.
7. Reset permissions or items in the home folder. Here is how:
Go to Finder
Go > Home. This will open your Home folder.
Now, from the menu bar, choose File > Get Info. A window will pop up.
Find the "Sharing & Permissions" section. Click the arrow icon to expand this section.
If you see a lock icon at the bottom, click it and enter your password.
Now click the settings icon and select "Apply to enclosed items." A popup will appear saying "Are you sure you want to apply the selected owner, group and permissions to all the enclosed items?" Click OK to confirm.
When this is done, open the Terminal app (Applications > Utilities) on your Mac and enter the following command and hit enter:
diskutil resetUserPermissions / `id -u`
Wait until the process is completed. Then restart your Mac.
See also: How Do You Turn Apple TV Auto-Play Off