Yesterday, I tried to download two apps from the App Store. The apps were Google Drive and Google Docs. Although I was able to install Google Drive without any problems, I could not download Google Docs as I was receiving a strange error message saying:
"Unable to Download App. "Google Docs" could not be downloaded at this time" with Done and Retry options. Tapping Retry was also giving me the same error again.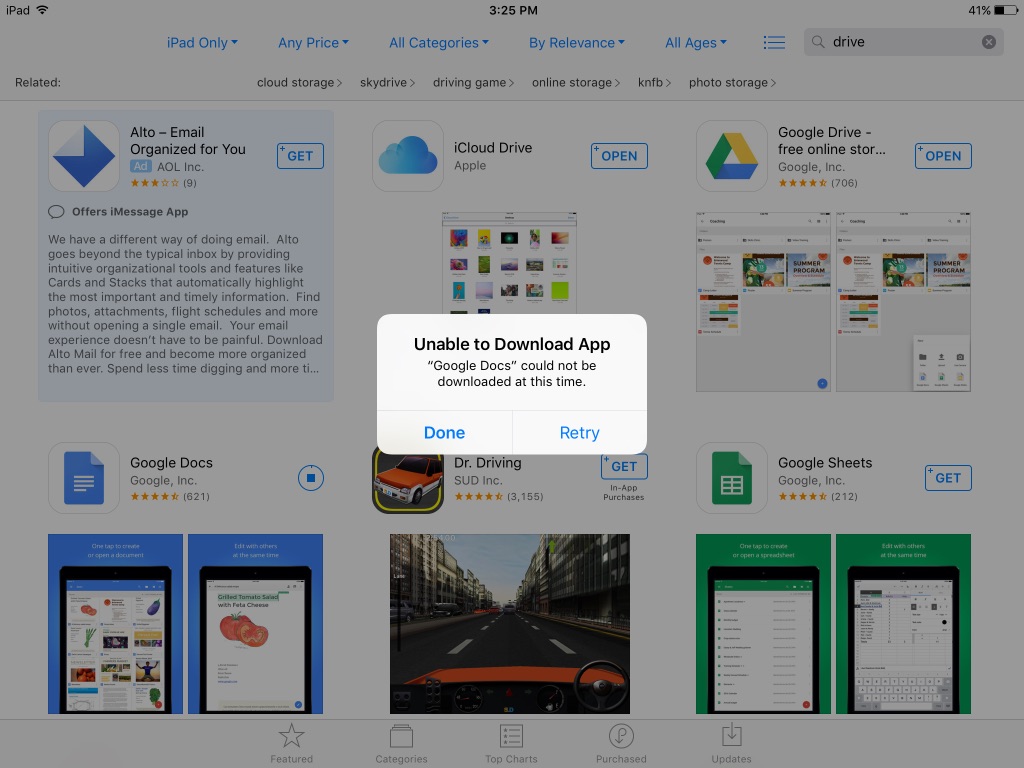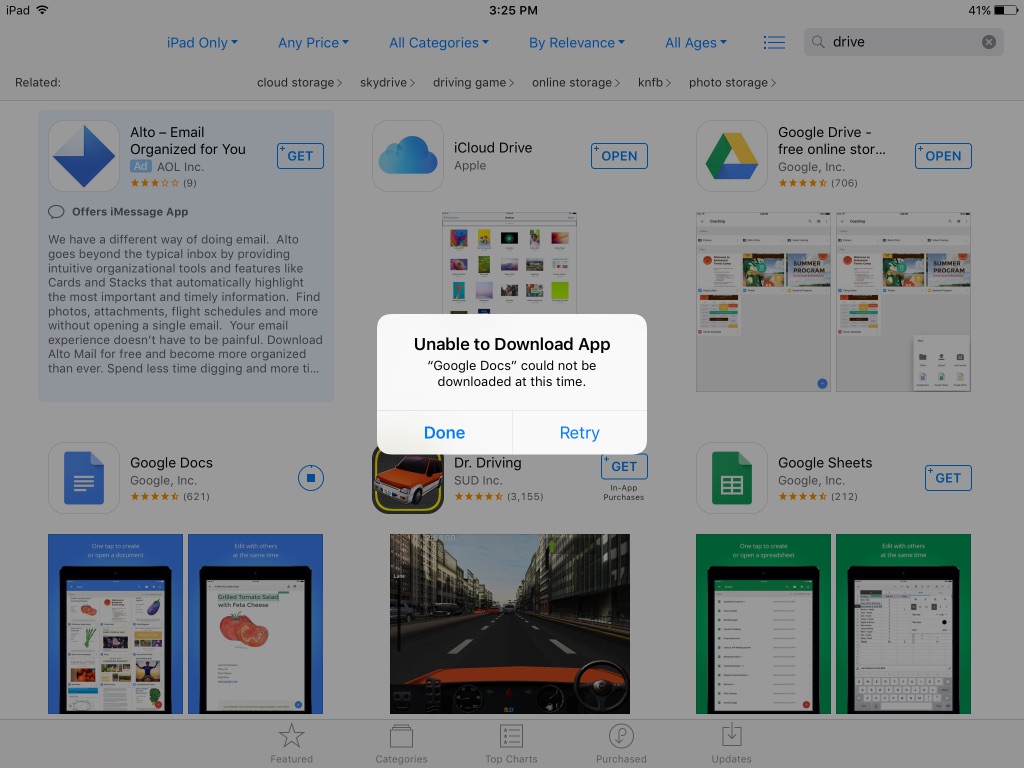 One other thing I realized was that the Google Docs icon was on the home screen but the app was not installed the icon was in a different darker color and was saying "waiting…"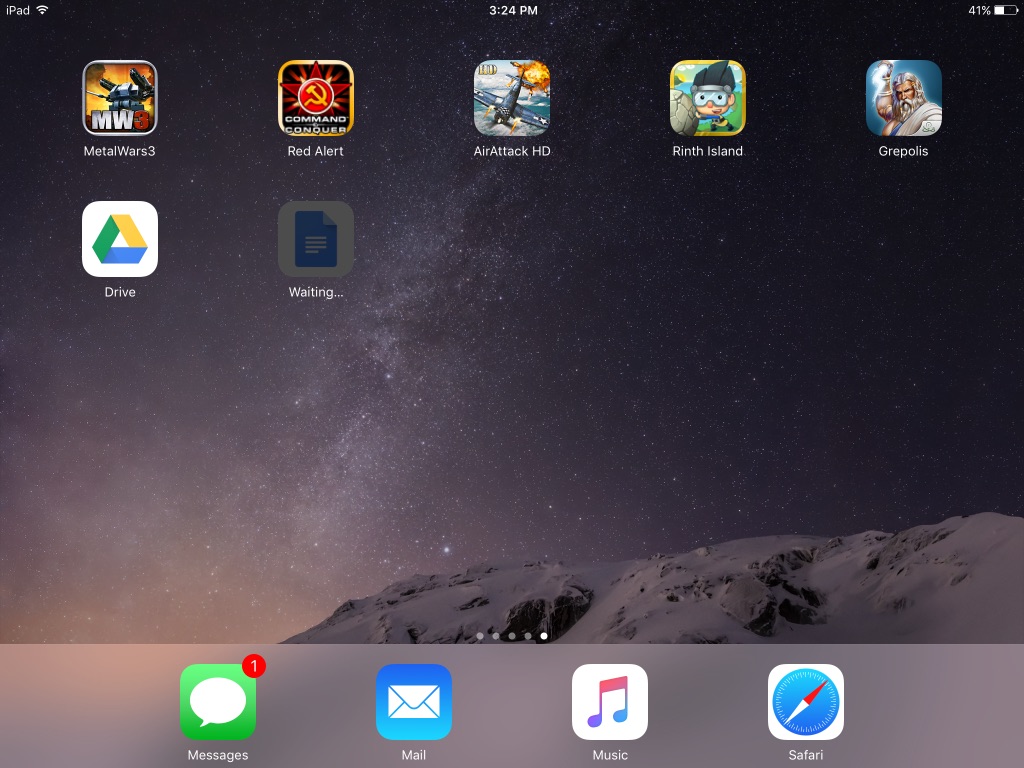 There are many reasons for the problem, it is highly likely that, if you are having this issue, you are having a connection problem. But the good news is that it is usually easy to fix.
It is obvious that you need to make sure that your iPhone (or iPad, iPod touch) has a Wi-Fi connection or a cellular-data connection.
I listed potential solutions below. The solution that worked for me is solution #7.
See also:
iOS App Store: Unable to Download App Fixes
Solution 1: Airplane mode
Turn on Airplane mode by going to Settings > Airplane mode and wait about a minute and turn back off.
Solution 2: Restart your iPhone or iPad
Simply restart your device by pressing and holding the on/off (sleep/wake) button and then slide the red slider. Wait about 10 seconds. Then turn your device back on by pressing and holding on/off button until you see the Apple logo.
Solution 3: Restart the App Store app
Double press the home button. You will see your open apps. Find the App Store app and swipe up. Then launch the app and try again.
Solution 4: Sign out and then sign in
Launch the App Store app. Scroll to the bottom and find your Apple ID. Tap that and select Sing Out. Then Sing back in by going to App Store > Sign in (scroll to the bottom again).
Solution 5: Update your device
Updating your device to the latest iOS version may fix this. You can do so wirelessly. Go to Settings > General > Software Update.
This is important because iOS must be updated periodically. You may be having this issue because of a bug in the software. And an update may include your fix.
Solution 6: Google DNS
You may try changing your iPhone's or iPad's DNS (domain name system) servers. Here is how:
Go to Settings > Wi-Fi
Find your Wi-Fi connection
Then tap the (i) button
Tap the DNS field
Delete the current numbers there and enter the new Google DNS numbers: 8.8.8.8
Tap Wi-Fi to go back. The changes you made will be saved.
Solution 7: VPN
This is what fixed my issue. I had already installed a few VPN (virtual private network) apps. One of them was Opera VPN. I simply turned this app on and then I successfully downloaded the app.
Solution 8: Force restart
Force restart your device. Apple's website explains how you can do that. This may fix the problem.
Solution 9: Try a different Internet connection
Go to another place and use a different Wi-Fi connection (e.g., school lab, library or your friend).
Solution 10: Time settings
On your device, tap Settings > General > Date & Time and turn on Set Automatically. Also make sure that your time zone is correct, if it is not, fix it.
If your time settings are correct, and turning on Set Automatically does not fix the issue, try this: turn off Set Automatically and the change your settings to a future date and time and try again. If you get the error message, turn on Set Automatically.
Solution 11: Restart your router
Restarting your router may fix your problem. To do this, disconnect your router from its power source then wait about a minute and reconnect.
Solution 12: Powercycle
Complete these steps:
Turn on your iPad, iPhone or iPod
Unplug the power cord from your modem and router
Plug in your modem and wait until modem turns on completely
Plug in your router and wait until your router turns on completely
Now turn on your device and try downloading the app.
These solutions will likely fix your problem. As I stated above, this error typically points to an Internet connectivity problem. This connection problem is preventing your iPhone, iPad or iPod touch from reaching the Apple servers. Following the steps above will help you resolve this.
App Store Shows White Blank Screen?