macOS: iTunes Crashing? Fix
This article explains how to fix when iTunes keeps crashing on Mac. Several users have further said that iTunes freezes, fails to start up or quits unexpectedly. Users have stated that they began experiencing this  after upgrading to the latest macOS version.
If you are having this problem, this article offers troubleshooting suggestions:
Important note: Please try each step one at a time until you resolve your issue.
See other iTunes troubleshooting articles:
1. Restart your Mac. You can restart your Mac by going to Apple menu > Restart.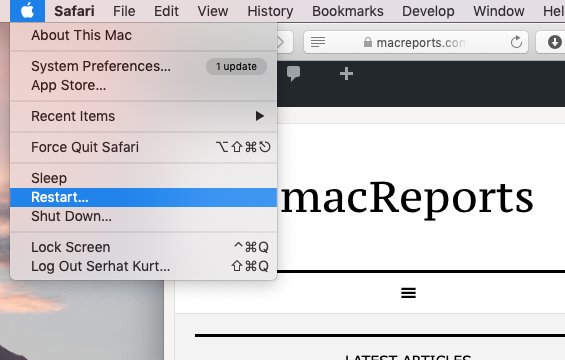 2. Force quit iTunes. Go to Apple menu > Force Quit and select iTunes and click Force Quit.
3. Update the macOS software and iTunes on your Mac. Updating the macOS software will also update iTunes, if you are running macOS Mojave or later. To update your Mac,  click System Preferences from the Apple menu, then click Software Update. This will check for updates. If there is an update available, click Update Now.  You can also check the "automatically keep my Mac up to date" box. This will le you to automatically download updates in the future.

If you are running an older version of macOS software (macOS High Sierra, Sierra, El Capitan, etc), use the Mac Store on your Mac. Here is how:
Open the App Store app
Click Updates
You will see a list of updates. If you see iTunes, click Update.
4. Start iTunes in safe mode. Here is how:
Quit iTunes if it is open
Press and hold the Command + Option keys
While you pressing the keys, open iTunes
You will see a message saying "iTunes is running in safe mode. Visual plug-ins you have installed have been temporarily disabled." Click Continue.
Is iTunes crashing in safe mode to0? Close iTunes and now open iTunes normally.

5. Restart your Mac in safe mode and run iTunes in safe mode. Doing so will help you diagnose problems with your Mac and iTunes.
6. Disconnect any peripheral devices (a printer, a microphone etc) that you recently connected from your computer. And try to use iTunes while they are disconnected.
Still having issues? The following tips are little more technical. Please back up before you continue. 
7. Please complete the steps below:
Quit iTunes to avoid conflicts if it is running
In Finder, first , press and hold the Option key,  and then click Go and Library
This will reveal a folder named Library
If you see the following files, move them to the trash (some of them may not exist):
Application Support/SyncServices
Caches/com.apple.iTunes
Caches/QCCompositionRepository-com.apple.iTunes.cache
Containers/com.apple.BKAgentService
Saved Application State/com.apple.iTunes.savedState 
Try opening iTunes now. Is it working? If it is not working, then see the next tip.
8. Now again, quit iTunes and open the Library folder. And find a folder named: iTunes. Move this folder to the Desktop. Now open iTunes and test if it is working. If it is working, you may delete this iTunes folder. If iTunes is not working, put this folder back (overwrite the existing one).
9. Now again, one more time go to the Library folder. And find and open a folder named: Preferences. And find the files that start with the following strings:
com.apple.iTunes
com.apple.mobile.iTunes
Move them to the Desktop. Now you will see a folder named ByHost in this Preferences folder. Open this folder and find and move the same type of files to the Desktop.
Now try to open iTunes. Is it working? If it is working, your settings will be lost. If you do not like the results, you can out the files back from your Desktop.