Virus Alert Notifications on Mac, What Should You Do?
If you are a Mac user who is experiencing these notifications, you know they can be persistent and annoying. You may also be worried that something has infected your Mac. If you believe the popups are a scam, you may still worry about how they are being generated. The notification messages usually say something like:
System Mac OS is infected!
Your iCloud is being hacked!
Critical virus alert
McAfee: Viruses Found (5)
System Error
If you are getting virus notifications popping up on your Mac, you may have questions like: Are these notifications real? Why am I getting these? Is my Mac infected with something? What should I do? How do I stop these notifications?
To answer the first of those questions, no, these notifications are not real; they are just a scam. Your Mac has built-in software that protects it from viruses and malware. In this article, we'll tell you why you are getting these scam notifications and what you can do to stop them.
Why you are getting virus notifications on Mac
Most people figure out pretty quickly that these are not real notifications; the only real challenge is figuring out where they are coming from. These fake virus alert notifications usually come from a website.
On your Mac, depending on your settings, websites can produce notifications. The idea behind this scam is to trick you into clicking on the notification and then proceeding to scam you in some way. The thing about these notifications is that, even though they are coming from a website, that website does not need to be open on your Mac. In fact, Safari doesn't even need to be open. Fortunately, getting rid of these scam popups is easy.
How to stop the Notifications
To stop notifications from websites in Safari on Mac, you can do one or more of the following:
Disallow notifications from System Settings
You can find the website in your Mac settings and stop it from sending notifications.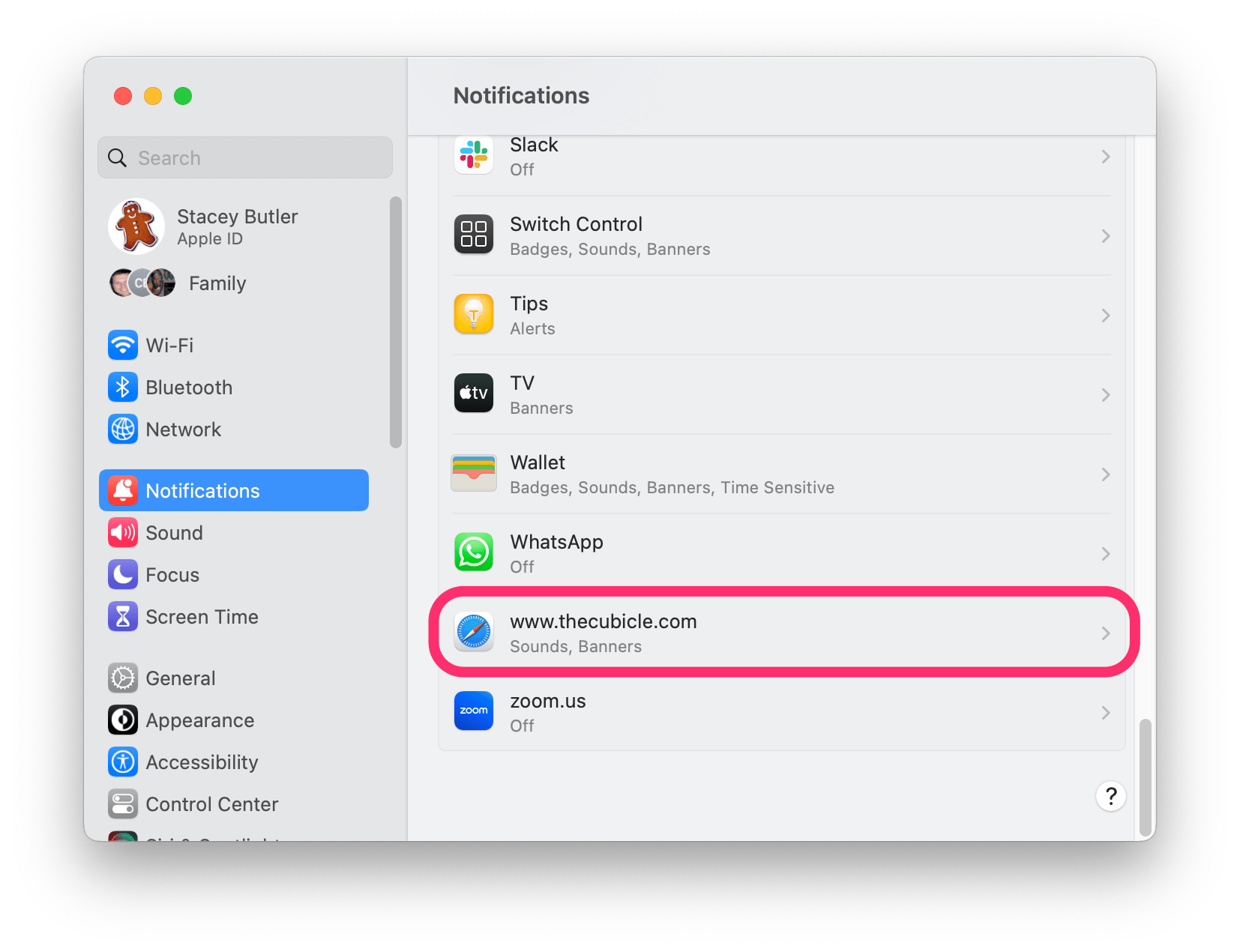 Open System Settings (Preferences). You can go to the Apple  menu and click System Settings (Preferences).
From the sidebar, click on Notifications. (Or click the Notifications & Focus icon in System Preferences.)
Under Application Notifications, look for the websites (they will have a Safari icon next to them). Click on the (shady) website, then toggle the switch at the top next to Allow notifications to disable it.
Don't allow websites to request permission to send notifications
You can make it so websites won't even be allowed to ask if they can send you notifications:
Open Safari on your Mac, then from the top menu bar, click Safari, then select Settings (Preferences).
Click on the Websites tab at the top of the window, then select Notifications from the left sidebar.
Under the Remove button, you will see "Allow websites to ask for permission to send notifications." Uncheck the box next to it.
If, for some reason, you want or need websites to send you notifications, you may not want to disable permission for all websites. You can instead find the offending website from the list and switch its permission to Deny instead of Allow.
Related articles