Apple CarPlay GPS Not Working, Showing Wrong Location
Some CarPlay users are saying that navigation apps such as Waze, Apple Maps or Google Maps are showing the wrong location. Users who have this issue say that the GPS shows a location that is several meters to several kilometers away from the actual location. Furthermore, the GPS location may keep switching between the actual location and the wrong location. This can cause a lot of routing issues, including delays or last-minute route changes.
There are various forms of this problem:
The GPS connection may appear to stop, causing the little direction arrow to cease updating, and the map becomes fixed at that point. Consequently, turn-by-turn directions cease to update.
The GPS location indicator changes to a larger circle radius instead of the arrow, indicating you are somewhere within that circle, yet it lacks precise information about the exact location.
The GPS shows a completely wrong location.
When the GPS malfunctions, it causes a complete disruption of navigation through Apple Maps, Google Maps, or any other navigation app, making them unreliable or even dangerous. If you are having this issue, you may keep getting messages like "Proceed to the Route" even when you are on the route.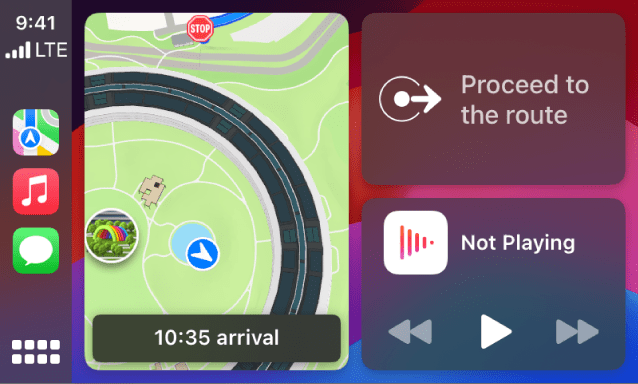 How to fix Apple CarPlay GPS problems
When using Apple CarPlay, your phone typically serves as the processor for the in-car display, while some head units feature a GPS antenna for mapping. It's likely that discrepancies in location arise from the interplay between these GPS components.
First, let us ensure that the navigation app (Apple Maps, Google Maps, Waze, etc.) is allowed to access Location Services. Here is how:
On your iPhone, tap Settings > Privacy & Security > Location Services and find the app from the list of apps.
Then, ensure that While Using the App or Always is selected. Also, ensure that Precise Location is turned on.
By doing this, you increase the likelihood that the navigation app can accurately determine your location, especially if CarPlay relies on your phone's location rather than the car unit's. It's plausible that CarPlay considers navigation apps as a background application even during active use. Setting the location to Always enables the continuous sharing of data, even when the navigation app is not actively open on your device, which can use additional battery power.
If your iPhone does not show an accurate location, you can reset it. Go to Settings > General > Transfer or Reset iPhone > Reset > Reset Location & Privacy. When you do this, all location-based preferences and privacy settings will be reverted to their default values. This includes app-specific permissions for location access, camera access, microphone access, and other privacy-related settings.
If the issue continues, from my own experience, initiate navigation in Apple Maps/Google Maps, etc., on your iPhone prior to connecting it to CarPlay to produce a better result. This seems to decrease the likelihood of CarPlay encountering issues that may lead to wrong GPS directions.
Reset your car unit
It seems that aftermarket Apple CarPlay head units may be particularly prone to experience this issue. If your unit offers a reset or a calibration option, use it. For example, for the Pioneer brand, it seems that resetting the 3D calibration on the head unit fixes this problem. This will reset GPS data. If your head unit is Pioneer, follow these steps:
Switch your unit to Source Off.
Tap the gear icon.
Tap System Information.
Select 3D Calibration Status.
Press Learning Status.
Select Reset Distance, then select Yes when you are asked to confirm the reset.
Select Distance and then select Yes when you are asked to confirm the reset.
Select Speed Pulse and then select Yes when you are asked to confirm the reset.
Then, select Learning Status again and then select Reset All.
Related articles