How to Check Email Attachments for Viruses or Malware on Mac
Worried about downloading email attachments? Some people have jobs that require them to download email attachments from strangers. Others may just worry that a friend's email has been hacked and someone is using their email to send malware. There is always some risk to downloading and opening attachments because you never know whether someone has targeted you with malware. In this article, we'll tell you how you can check email attachments for malware before you open them on your Mac.
For Macs, viruses are not really a concern. What can happen, though, is malware. We'll discuss the following:
What is malware?
How to safely download and open email attachments
What is malware?
Malware is short for malicious software. Malware includes viruses, worms, trojans and other kinds of software you don't want on your Mac. Some malware can cause serious problems, and other malware is really more like spam – extremely annoying.
The usual recommendations for avoiding malware include:
Don't download software from unknown sources.
Don't download email attachments from unknown senders.
But these pieces of advice only work when you can afford to ignore email attachments from unknown senders. This article goes over how you can safely view and download email attachments, even from unknown senders.
How to safely download and open email attachments
General Mac security
There is security on your Mac that helps prevent malware from running. macOS's GateKeeper checks apps, plug-ins and installer packages to make sure they are from an identified developer. Also, if you are running Catalina or later, all software will have to be notarized to make sure it is free of malware.
There are two security settings which you will find in System Settings > Privacy & Security (System Preferences > Security & Privacy). You can choose to allow applications downloaded from the App Store or from the App Store and identified developers. You may choose either setting and when you try to open an app from an unidentified developer, you will be warned by macOS. This is especially useful for those who are downloading non-app attachments.
If you think you are opening a document, and you see a warning pop up about running software from an unidentified developer, then you know something is wrong. If you see any warnings, you should strongly consider not continuing.
Email attachment safety
For email attachments, you can not just look at the name of the file to determine whether it could be malware. The sender may disguise a file as a PDF or some other kind of harmless file.
You can download an attachment from an email, but wait to open it. First, you should check that it is the kind of file it claims to be.
To check a file, first download the attachment.
Open your Downloads folder in Finder and locate the file, but do not open it (do not double-click the file).

If you are using the column view in Finder, there will be a Kind column that you can check. If you are using another view and don't wish to change the view, you can right-click (Control-click) on the file and select Get Info.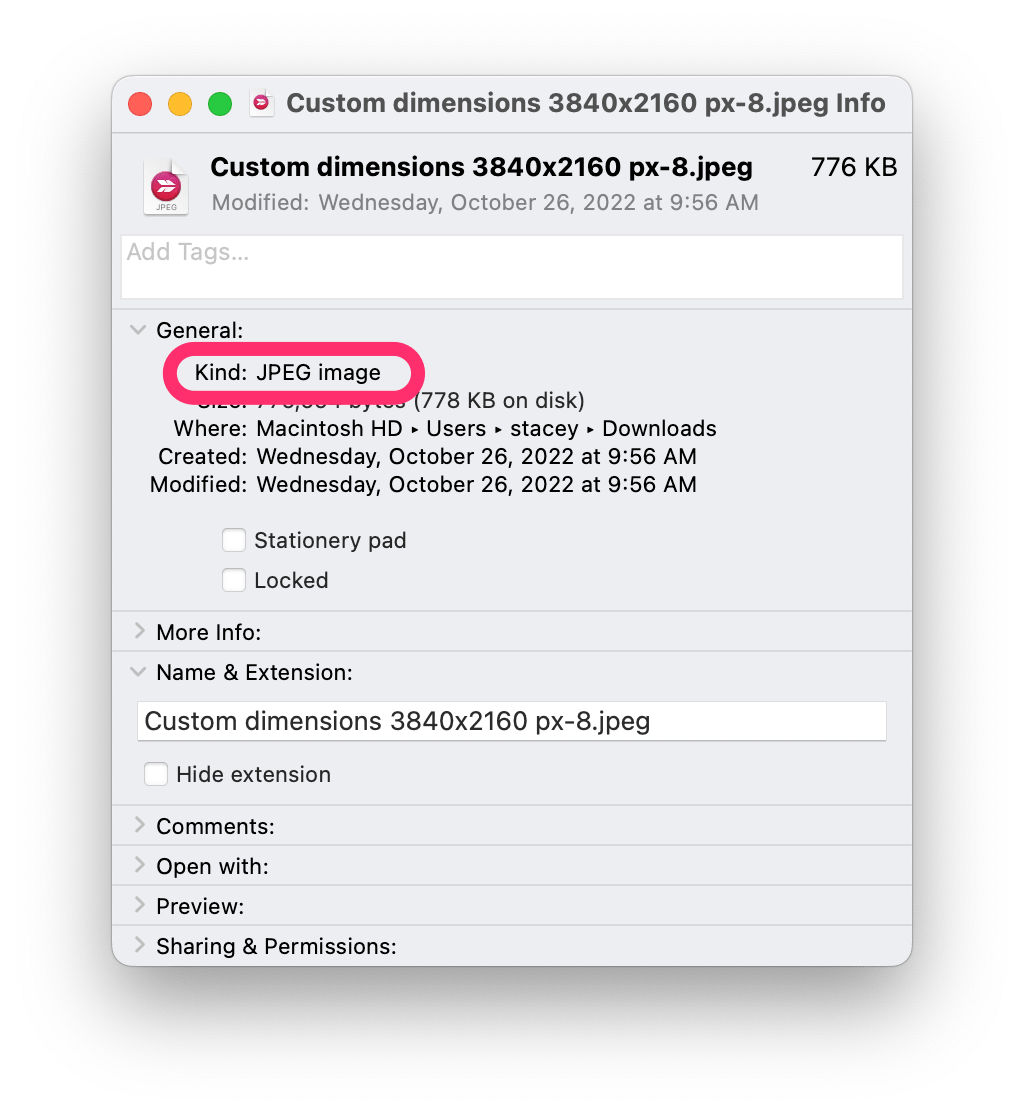 There are many different file types out there; way too many to list here, but we will list some of the common document file types and then some of the application file types. It's the applications you need to watch out for. Also, if you see a different file type that you don't recognize, you can always Google it for more information.
Document file types include Rich Text Format, TXT, JPEG, PDF, M4A, MP3 and MOV.
Application file types include Unix Executable File, Script, Terminal, TerminalShellScript and Jar Launcher Document.
You may also want to watch out for web archives and Java archives.
Related macOS security articles