We Sent an AirTag from Illinois to Istanbul via FedEx
Apple's AirTag is a small tracking device designed to fit easily in or on all sorts of things that you may want to keep track of. You can attach one to your keys, put one in your wallet or even attach one to your pet's collar. After setting up your AirTag, you can use the Find My app to track its location and find your stuff. If your AirTag is near your iPhone, you can see its location and ping the AirTag, causing it to make a noise which can help you locate it. When you aren't near your AirTag, you can still locate it when it is close to civilization, using crowd sourcing. Your AirTag will be seen by other people's iPhones, iPads, and Macs and its location will be sent to Find My.
Your AirTag works by sending out a Bluetooth signal that gets picked up by nearby devices. You can also put your AirTag in Lost Mode so that if someone finds your AirTag, they can get your contact info by using NFC on their phone, which gives you a way to get your stuff back. But how well does AirTag work? At $29, it doesn't cost too much, at least compared to many Apple products. Will you really be able to track your stuff, even from around the world? We sent an AirTag from Champaign, Illinois, USA to Istanbul, Turkey via FedEx to find out.
What We Did
We bought an AirTag, set it up and stuck it in a bubble envelope. We took it to a FedEx, where we made sure to mention we are mailing an AirTag, and then we had our AirTag equipped package sent to a friend's address in Istanbul, Turkey. After that, we started monitoring its location using the Find My app on iPhone.
Tracking our AirTag's Journey
We sent our AirTag on its journey via FedEx on Tuesday. We monitored its location using Find My until it arrived at its final destination, more than 5,500 miles away, in Istanbul on Friday.
Our AirTag's Route According to Find My
Our AirTag started out in Champaign a little after midday on Tuesday. After being dropped off at the local FedEx, our AirTag toured around town for a little while. Presumably traveling with the FedEx truck to various stops in town.
At the FedEx in Champaign, Illinois, USA
Touring the town, including a trip back to FedEx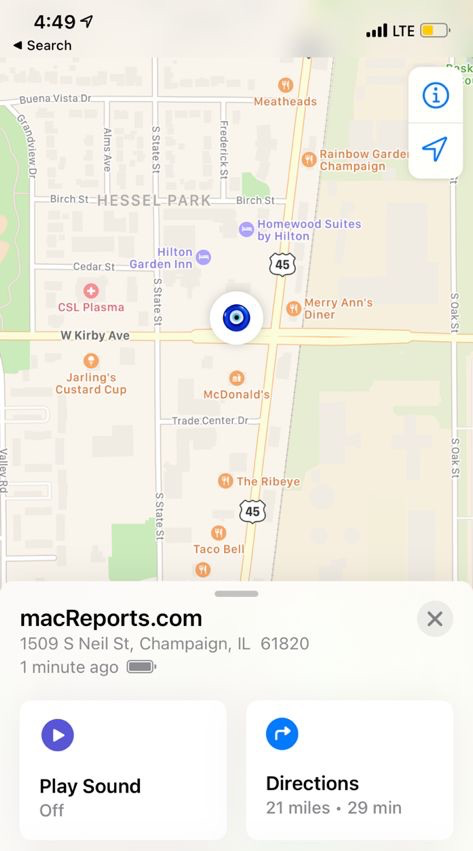 Tuesday evening, our AirTag was at the Central Illinois Regional Airport, which is about 50 miles from Champaign, in Bloomington, IL.
At Central Illinois Regional Airport, Bloomington, IL, USA
Our AirTag equipped package then took a flight to Memphis, Tennessee. It was there early Wednesday morning.
At Memphis International Airport in Memphis, TN, USA
Our AirTag then made its way across the Atlantic to Paris, France, appearing at Paris Charles de Gaulle Airport Wednesday afternoon.
At Paris Charles de Gaulle Airport, Roissy-en-France, France
Our FedEx package then appeared at Istanbul Airport, in Istanbul, Turkey on Thursday evening. It was located elsewhere in Istanbul Friday morning.
At Istanbul Airport, Istanbul, Turkey
The next stop,in Istanbul, about 20 miles from the Istanbul Airport
Our AirTag's Final Destination
Our AirTag never actually made it to its final destination at our friend's place. We had noticed that the package was located at an address in Istanbul for a long time, like 20 hours (the last map photo above). FedEx tracking did not say anything unusual other that it would be delivered by 8pm that day. However, we got suspicious and called FedEx and they said our package was being held, and that they would need additional payment to deliver the package (our package was only 1 mile away from the delivery address). They said they had attempted to contact us, however, they had not called us or the receiver (our friend). We won't be sending any additional payments and so, FedEx still has our AirTag package. We were told our package will be discarded after a period of time … RIP macReports.com AirTag.
Final Thoughts
During our AirTag's journey, we also used FedEx tracking. We found that Find My consistently showed us where our AirTag was before FedEx tracking.
Find My also offered a much more detailed and accurate tracking of our AirTag equipped package.
The only times when Find My could not locate the AirTag is when our package was in the air.
Related Articles: