What Does Block All Incoming Connections Do?
Security is important, and Mac has important security features. You may not want other people or software to connect to your Mac. The good news is that your Mac includes a built-in firewall. The Mac firewall acts like a filter to prevent non-safe connections from reaching your Mac. One of the firewall settings on your Mac is the "Block all incoming connections" option. You can turn this off or on. A lot of users wonder what exactly happens if this is turned on or off. In this article, I will cover what may or may not work when this setting is enabled.
What is Block All Incoming Connections
As I stated above, Block all incoming connections is part of the Mac firewall. You will need to turn on Firewall to use this feature. The Mac firewall is designed to monitor network traffic and block unauthorized access. If you turn on Firewall, this does not mean that you turn on Block all incoming connections. Block all incoming connections offers an extra layer of security that you can turn on or keep turned off after enabling Firewall.
Apple says that this setting if enabled, "blocks all incoming connections except those required for basic internet services such as DHCP and IPSec." Here is how you can turn off or on this setting:
macOS Ventura or later:
Open System Settings.
Click Network from the sidebar.
Click Firewall. If it says "Inactive," it is turned off. When Firewall is disabled, your Mac does not monitor network traffic, and all incoming and outgoing traffic is allowed.
Click on it, and toggle the switch to on so that Firewall is enabled.
Then click Options.
Then turn on or off the "Block all incoming connections" switch.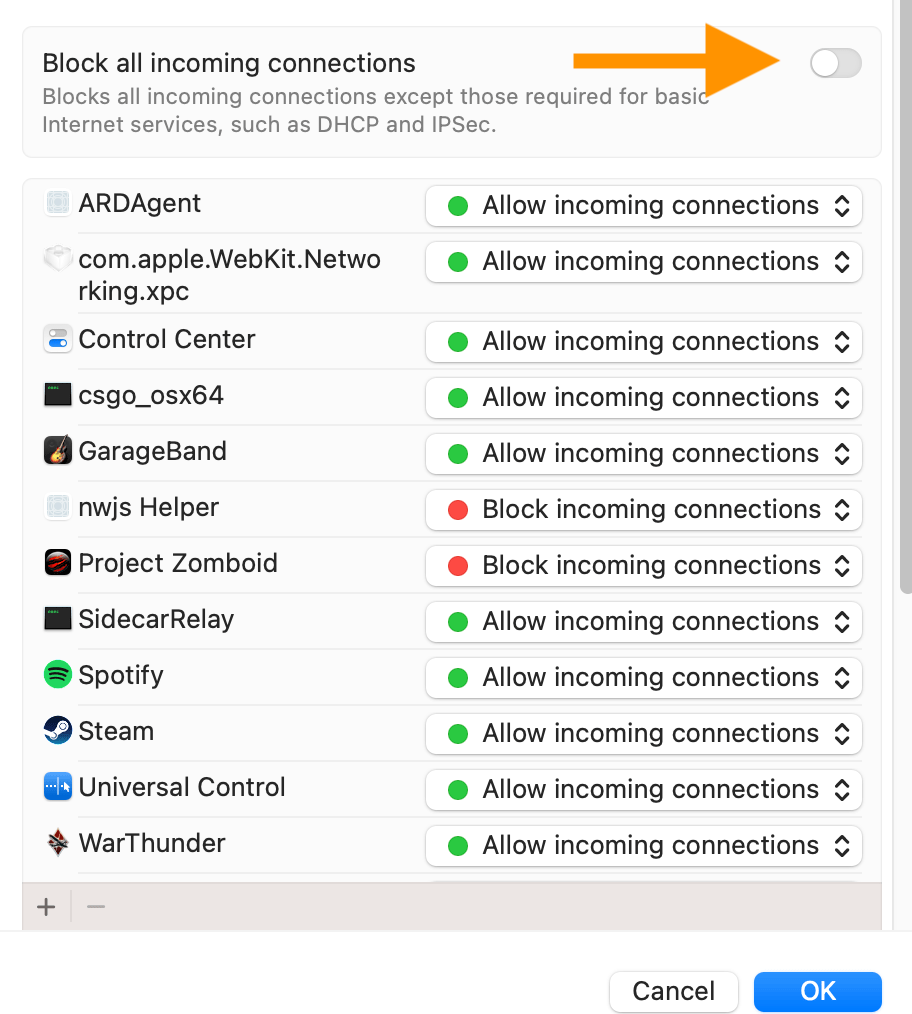 macOS Monterey and earlier:
Open System Preferences.
Click Security & Privacy.
Click the Firewall tab.
You may need to click the lock icon and enter your password to unlock the section.
Turn on Firewall and click Firewall Options.
Then you can select or deselect the "Block all incoming connections" box.
What will still work and what won't work after enabling Block all incoming connections
You can customize your settings. You can decide the blocking level. In Firewall settings, after clicking the Options button, you will see a list of apps or services. You can either select "Allow incoming connections" or "Block incoming connections." You can also click the plus (+) button to add more apps or services.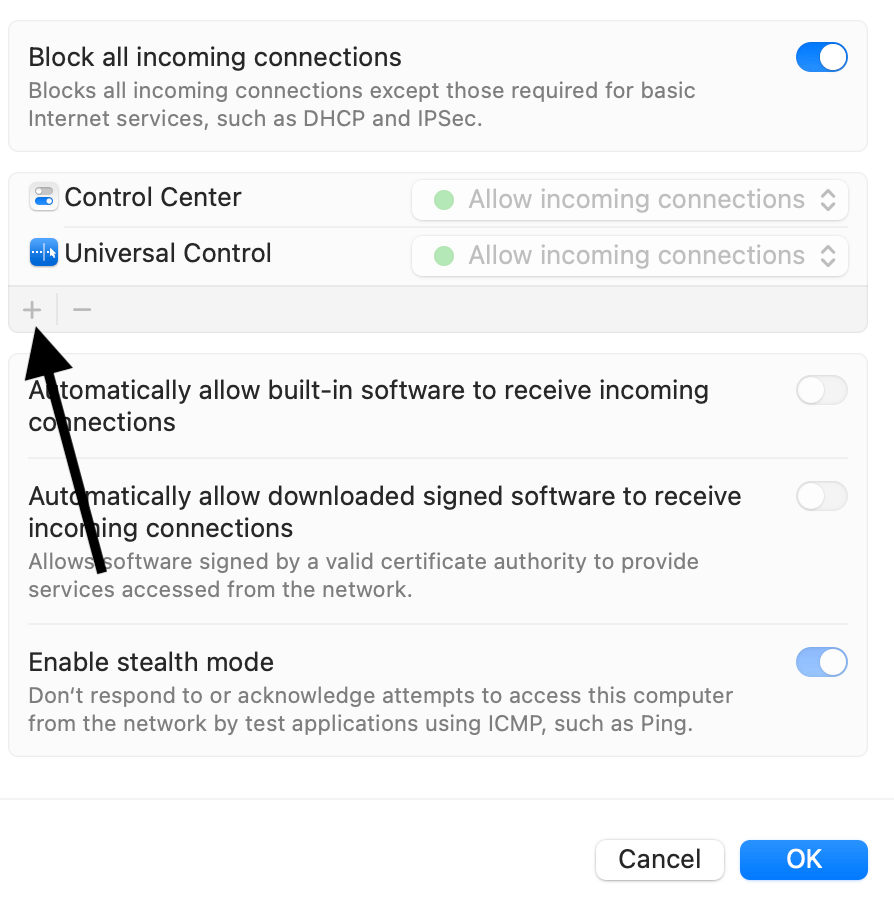 You can also turn on or off these three options:
Automatically allow built-in software to receive incoming connections.
Automatically allow downloaded signed software to receive incoming connections.
Enable stealth mode.
Depending on your settings, you may have problems using the following with your Mac:
AirDrop to Mac.
AirPlay to Mac.
Universal Control.
Screen Sharing.
You may also get popup messages saying, "do you want the application [app name] to accept incoming network connections?" You can then allow or deny this. However, the following will still work no matter your settings:
You will still be able to send or receive messages.
The Internet will still work; for example, you can still check your emails.
You will still be able to make or receive FaceTime calls.
Related articles