Your Carrier May Charge For SMS Messages Used To Activate iMessage
Are you receiving a popup message saying "Your carrier may charge for SMS messages used to activate iMessage"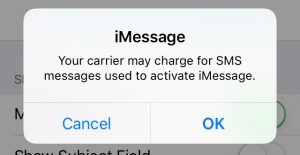 Are you keep getting this message randomly? And you want to turn this off?
I was getting this message too whenever my iPhone restarts. Even though iMessage on my iPhone was working as expected as I was able to send and receive iMessages.
First, I should note that it is a normal notification when activating iMessage. However, you should have only received it once during the activation of your iMessage.
See also: Message Alerts Not Working? Fix
Fixes
1-Make sure that your date, time, and time zone are set correctly. Turn iMessage off and on in Settings > Messages. Open iMessage, under the message settings, a popup message will appear saying your carrier may charge for SMS messages and select "cancel". iMessage activates itself after you have clicked cancel.
2-Make sure that your iPhone has the latest version of iOS. In not, simply update. To update, tap Settings > General > Software Update. If there is an update available, tap Download and Install. If you have any issues, please read our article on iOS update problems.
Also note that you may want to backup your phone before updating. You can easily update with iCloud by going to Settings > iCloud > Backup.  Make sure that your iPhone is connected to a Wi-Fi network.
3-Remove and reinsert the Sim card. Apple explains how you can do that.
4-Tap Settings > iCloud > Your Name (and iCloud ID) > (you may be asked to enter your Apple ID password, if asked, simply enter). Then tap Contact Information. Then add your phone number by tapping Add Email of Phone Number.
5-Reset network settings. Go to Settings > General > Reset > Reset Network Settings. As the action states, this will reset your network settings (e.g. your Wi-Fi passwords will be removed etc.)
If you are still having this problem, contact your cell carrier (AT&T, T-Mobile etc.). You may also contact Apple support.