iOS: Unable to Install Update: An error Occurred Installing…
Several users have reported that they're receiving an error when trying to update their iPad or iPhone devices. It seems that this is one of the most common issues that iOS or iPadOS users face when updating.
You can easily update your iPhone, iPad, or iPod touch wirelessly. To install the latest version of iOS,  tap Settings > General > Software Update. If you can't update, there might be many possible reasons. This article explains what you can do to fix if you see the Unable to Install Update error.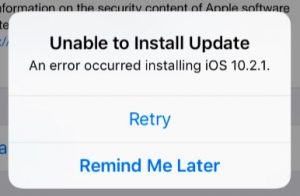 Apple periodically releases updates for the iPhone, iPad, and iPod touch. Updates for iOS are released via over-the-air software updates. These releases include bug fixes, additional features, and improvements. Thus we recommend installing the latest available updates.
If you see this error when you update your iPhone, iPad, or iPod, here is how to troubleshoot it:
Before continue, it is very important that you make a backup. There are basically two ways to do this:
You can use iCloud. On your iPhone or iPad, go to Settings > [your name] > iCloud > iCloud Backup.
You can also use your computer, Mac or PC: Connect iPhone or iPad and your computer (Mac or PC) using USB. Open iTunes (if this a PC or if this a Mac running macOS Mojave or earlier) or Finder (if this is a Mac running macOS Catalina).
Select your device and click Back Up Now.
See also: Black Screen With Spinning Wheel
iOS Update Problem Fixes:
Restart your iOS device. And try again.
See this article if you see the Software Update Failed message.
If possible, try to update your device using a different WiFi network.
Make sure that there is enough space to download and install an update. If this is the issue, you may want to make more space by removing content that you do not need or use. To do so, simply go to Settings > General > [Device] Storage. You may also want to turn on "iCloud Photo Library". This will let you reduce the size of your Photo library. You may also see several recommendations. You can also use the recommendations to optimize your storage. You may also want to delete music, apps, photos, or videos.
Try again by removing and downloading the iOS update. Here is how:
You can also try to update with iTunes or Finder (Catalina or later) to update your device manually using your computer. Here is how:

Connect iPhone and your computer using USB.
Open iTunes (PC or macOS Mojave or earlier) or Finder (macOS Catalina or later).
Make sure that you have the latest version of iTunes on your computer (Mac or Windows)
In iTunes or Finder, locate (in Finder, your device will appear in the sidebar of the Finder windows) and select your device.
General or Settings, then click Check for Update.

Force restart your device: Here is how you can force restart your iPad or iPhone:

iPad models with Face ID, and iPhone 8 or later: Press and release the volume up and then press and release the volume down buttons and then press and hold the side or top button until you see the Apple logo. Then release the button.
iPhone 7 models: Simply press and hold both the top or side and the volume down buttons until the Apple logo appears.
iPhone 6s and earlier models, iPad with Home button and other iOS devices: Press and hold both the side or top and the Home buttons together until the Apple logo appears.

This is for advanced users. You may want to use the iOS IPSW File to Update. Here is how:

On your computer, download IPSW file for your device.
Connect your device to your computer.
Open iTunes or Finder.
Go to the Summary tab.
Hold down the Shift key in Windows or Alt/Option key on Mac and click Update.
Then find and select the IPSW file you just downloaded.
See also: iPhone, iPad Activation Problems, Fix
Did any of these solutions help solve your problem? If not, it is time to contact Apple.