Crescent Moon Icon in Messages: What Does It Mean?
You may see a crescent moon (gray or blue) symbol next to your contacts in Messages. We received some questions from our readers regarding these icons. Our readers wanted to know what did that mean? Why there were some messages had this icon, while some did not. And also how could someone remove it?
See also: Message Alerts Not Working?
Moon Symbol in the Status Bar
If you see a moon symbol in the status bar (top bar) of your iPad or iPhone, that means that Do Not Disturb is enabled. Do Not Disturb lets you silence calls, notifications, and alerts. Enabling this will stop vibrations, sounds etc.

To limit interruptions with "Do Not Disturb", go to  Settings > Do Not Disturb.
Moon Symbol in Messages
iOS lets your mute individual threads in Messages. Moon means that you have silenced the conversation by selecting the "Do Not Disturb" (iOS 10 and earlier) or "Hide Alerts" option. It means that you have selected to mute notifications and alerts about new messages from that particular contact.
When this option is enabled, you will not get notifications (your device will not vibrate, will not make any sound etc) but you will still receive texts.
You can unmute text messages (this will get rid of the moon icons) by going to the text conversations > then tap Details (i) >
then toggle off "Do Not Disturb" (iOS 10 and earlier). If you are running iOS 11, then  toggle off "Hide Alerts".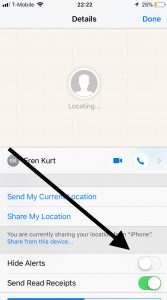 You may see Blue or Gray icons.
Blue vs Gray Crescent Moon
As I stated above, you may see blue or gray crescent moon icons. They mean different things:
This means that you have a new, unread message. This will turn gray after you read it.
This means that texts are read / opened.
See also:
How to Mute Text Notifications For Individual or Group Message Conversations