Cannot Download Photo: iCloud Library, Fix
You may receive the following error message when you try to view, edit, download, duplicate, share, or attach a photo:
Cannot Download Photo.
There was an error downloading this photo from your iCloud Photo Library. Please try again later. 
See also: Your iCloud Storage Is Almost Full?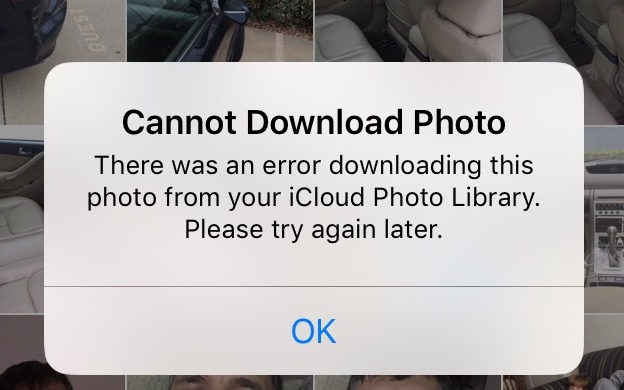 You may also get the "Unable to Share" error message. Your photos and videos also have circled exclamation points (!) in the lower right-hand corner indicating that there were problems downloading your photos:
When you enable iCloud Photo Library, every photo or video you took will be upload to iCloud. You will be able to access your photos anytime from any of your devices, your iPhone, iPad, Mac.  This will help you save space. Your device will store the smaller, low-resolution, versions of the photos but the original, full-resolution, versions will be stored in iCloud.
You can access your photos via the Photos app or via the iCloud website (icloud.com).
You can see the smaller versions of your photos but you cannot download the full, original, versions? I had this issue yesterday. I was trying to attach a photo to an email message on my iPhone and I kept getting this message. And I could not attach it and thus I could not send the image. To fix for me was just to restart. I restarted my device and I was able to send the email with the photo attached.
If you are having this issue with your iPhone or iPad being unable to download photos or videos from your iCloud Photo Library, here is how you can fix it:
Cannot Download Photos Error Fixes:
Please note that it takes some time for you to see your photos on all your iOS devices.
The first tip you should try is to turn off "Low Power Mode". When your iPhone or iPad is in Low Power Mode", some iCloud features will be reduced. Go to Settings > Battery and toggle off "Low Power Mode".
Turn on and off Airplane Mode by going to Settings. We are doing this because there may be a connection issue and this action may resolve it.
Ensure that you have enough iCloud storage. If you are over your limit, your photos will not be upload to iCloud.
Sign out iCloud by going to Settings > Your Name >Scroll Down > Sign Out. You will be asked to enter your Apple ID and password. After this go to Settings > Your Device and Sign in. Do not worry you will not lose any data, your files including photos will be gradually restored again from your iCloud account.
Restart your device.
Make sure that you enabled the option to use cellular data for Photos. Go to Settings > Cellular.
Force close all running apps by double-pressing the Home button and swipe up on all of the apps.
Go to Settings > Your Name > iCloud > Photos > And select Download and Keep Originals. Make sure that your device has enough space.