"System" Storage And What Can You Do To Clear
This guide explains how you can reduce "system" storage size on your iPhone or iPad. System storage consists of two type of files: (a) system files that are necessary for operating the core system of the device and (b) temporary system files: system settings, backups, logs, caches and other files.
To check your device's current "System" Storage size, on your iPhone or iPad, go to Settings > General > iPhone or iPad Storage > and scroll down: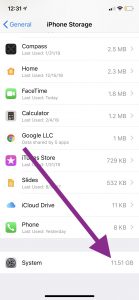 System storage size can vary a lot. It can be 5 GB or it can be 15 GB. Usually this is normal and again usually you should not worry about system storage if you still have a lot of free space. But if you are low on storage and if you think that system is taking up a lot of storage, you may want to try the following tips:
The first thing you should try is to restart your iPhone or iPad. Restarting your device will highly likely reduce this system storage. In fact, when I restarted my iPhone system storage went down from 13.17 GB to 11.87 GB. 
You may want to try the following steps. These steps will trigger a maintenance which may reduce the size of system storage:

Open iTunes on your computer (make sure that you are running the latest version of iTunes)
Connect your device (your iPad or iPhone) to your computer (Mac or PC) via your USB cable
Follow the onscreen tips, like entering your passcode or tapping "Trust This Computer"
Select your iPad or iPhone in iTunes
Now just wait, you do not need to do anything else. Just wait several minutes
Now again check current system storage to see if it is reduced
Now disconnect your device.

iOS have space recommendations. Following them may help. They are great tips. Here is how:

Settings > General > iPad or iPhone Storage
Find the the Recommendations section
You will see a number of recomendations

Restore your device from a backup using iTunes or iCloud. Here is how:

Back up your device. In this article, we will show how you can do this via iCloud. You can also do this via iTunes. On your device, Settings > [your name], and tap iCloud.
Tap iCloud backup
And tap Back Up Now
Wait until backup is completed before moving the next step.
The next step is to delete all content and settings. This will restore your device to its factory settings.
Now tap Settings > General > Reset and Erase All Content and Settings. And follow the onscreen guidance, like entering your passcode etc.
This may take a few minutes and your phone or iPad
Now you should see a Hello screen
Again now follow the onscreen steps
When you are asked, select Restore from iCloud Backup. And again follow the onscreen steps.
If you think that you have a hardware problem, you may want to make a Genius Bar appointment.
See also: