Email Stuck In Your Outbox? Unable To Send & Delete? Fix
Yesterday, I tried to send an email on my iPhone. But it seemed that my email was stuck in my outbox. My email would not go. For some reasons, the iOS mail app could not reach the email server to send my mail. I wanted to delete it and resend again. but I could not delete the email because the "Edit" button was grayed out.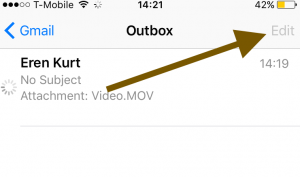 This short article explains how you can clear a stuck email in your outbox.
There may be many issues stopping the mail from being sent; such as:
A bad connection
Offline mail server
Corrupt messages
Too large file (videos, pictures etc) attachments for your email server to handle
Wrong password for the email account
Wrong email address
Also note that iPad, iPod touch and iPhone users may experience this problem. If you think that your email sending process takes too long on your iOS device, here is how you can troubleshoot:
How to clear stuck emails
1-Turn on Airplane mode (Settings > Airplane Mode)
2-Restart your iPhone or iPad by pressing and holding the on/off (sleep/wake) button until you see the red slider. Slide the read slider. Wait a few seconds. Then again press and hold the on/off button until the Apple logo appears.
3-Do not turn off Airplane Mode
4-Launch the Mail app
5-If you have more than one email accounts, select the one you are having problems with, e.g., iCloud, Gmail etc
6-Tab Outbox. Note if you do not see an Outbox, this means that your email was already sent successfully. 
7-Now you can tap Edit as you will see this option is no longer grayed out or dim.
8-Select the stuck email message in the Outbox and then tap Trash
Now you can turn off Airplane mode. You may want to resent this email again.If your cannot send the email again, you may want to do the followings:
Contact your email provider
Make sure that your email account settings are correct
Remove your email account and add again by going to Settings > Mail, Contacts, Calendars > Your Email Account > Delete
See also:
Did these tips work for you? Let us know.